By Don Cheney
The plant consolidation schedule for 2015 was updated August 13, 2014 at https://ribbs.usps.gov/.
With the switch to 24-hour plant operations, most jobs in the gaining facilities will likely be reposted. Parking will be scarce during the tour overlaps. Maintenance people will have a big challenge keeping the machines running continuously and the floors clean.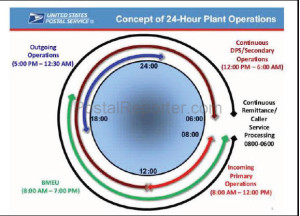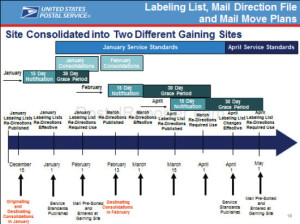 For those who think Phase 2 will be the end of plant consolidations, I invite them to read this OIG white paper, "A Future Mail Processing and Transportation Network." It inspired the plant consolidations that followed.The OIG thinks there will be a need for only 135 plants by 2020. No one should feel safe.  Phase 2 is not likely to be the end of mail consolidation. 
From: xxxxxxx
Date: August 15, 2014 3:23 PM PDT
To: "'Lucille Caldwell'" <xxxxxx>
Subject: Plant Consolidations
Don Cheney
Auburn WA Local
Retired President

2015-Plant-Consolidation-Schedule (link corrected)
OIG A-Strategy for Future Mail Processing
OIG-The Cost of Service Standards
[PostalReporter] Here is a partial list of the 2015 Consolidation list by date and USPS Network Rationalization presentation from webinar on August 15, 2014.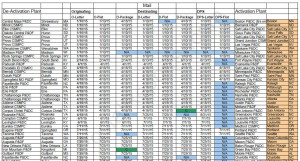 The Future of USPS mail delivery
"The First-Class Mail and Standard Mail streams are being combined at the remaining plants.  David Williams said their goal is to Delivery Point Sequence as much letter and flat mail to the carriers as possible.  Their mission is to reduce carrier hours and jobs as much as possible.  One good change is that many mail processing clerks will have daytime hours."