9/4/17 –  Carmen Hightower held back tears as she resumed her appointed rounds this weekend in Hurricane Harvey's aftermath.
"I was stunned," said Hightower, a letter carrier at Houston's TW House Station. "I just feel so sorry for my customers. It hurts to hear what they're going through."
As the floodwaters from the massive storm begin to recede, USPS is working to restore service, including delivering mail where it's safe to do so.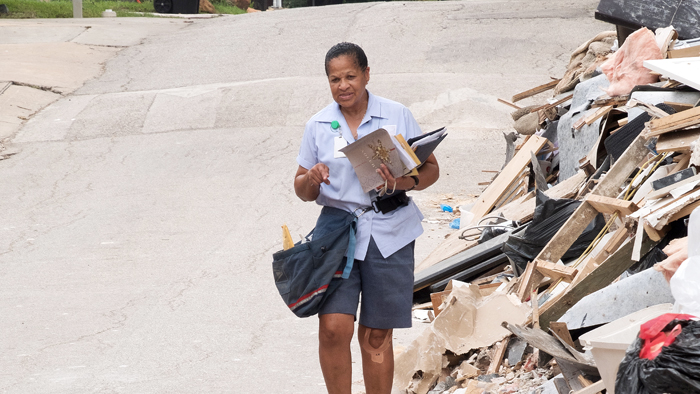 For Hightower and other carriers, this means carefully navigating streets and avoiding debris, such as torn-out drywall, drenched furniture and mildewed insulation.
It also means witnessing firsthand the dramatic evidence of Harvey's wrath — like a car that floated over a fence onto the grounds of a high school.
"The water was so high, the current took it right over the fence. Customers' trash cans were strewn all over the school yard," Hightower said.
In addition to resuming delivery in areas deemed safe, USPS is providing pick-up mail service at Post Offices for displaced customers. Employees are also visiting shelters to help storm victims with change-of-address orders and other requests.
Customers can check the USPS Service Alerts page for the latest updates, while employees can use a new online map to see the operational status of facilities in the affected areas.
No matter where Houston residents encounter Postal Service employees, they're expressing their appreciation.
As the water lowered in the Oak Forest neighborhood during the weekend, hopes began to rise when customers saw Letter Carrier Nelson Brown making deliveries.
"He's been my carrier since I was a little boy," said Alexis Kenner. "For him to come here on a Sunday? That's really nice. That's totally legit."
Brown expressed similar sentiments.
"They are very happy that I'm back," he said. "And so am I."
source: USPS News Link
Houston Postal Workers Brave Flooded Areas To Deliver Mail
Postal workers in Miles' Scarsdale delivery area have been off for four days due to Harvey and its aftermath. Due to the overwhelming pileup of mail, carriers like her are currently delivering mail on weekends and holidays.