The e-commerce giant just took another step in its long-term plan to disrupt everyone from FedEx and UPS to your local convenience store
By now, it's clear that tech giant Amazon (NASDAQ:AMZN) believes that its Prime delivery service will be a cornerstone of its future growth.
Beyond its plans to revolutionize its global supply chain, Amazon has also focused considerable effort on dominating the intra-city delivery space via its Prime Now service. And recently, the company made an interesting change to Prime Now; one that likely signals its longer-term ambitions for its rapid delivery service.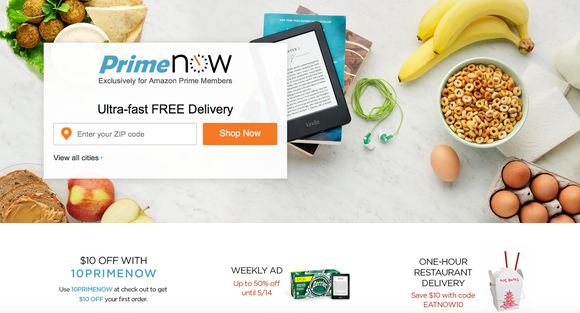 Prime Now goes online
According to a report from Recode, Amazon has launched a Web-based version of Prime Now at the address PrimeNow.com. Previously, Prime Now had only been available through dedicated iOS and Android apps
So far, the service offers 1-hour and 2-hour express delivery on over 10,000 items to Prime subscribers in over two dozen U.S. cities. Many observers see its expansion as a Web-based offering as the logical next step in its gradual transformation into a more broadly available, mainstream service. In discussing the nearly two-year-old service, Prime Now GM Stephanie Landry commented, "When we see something [customers love], we definitely want to expand it as fast as possible."
source: Amazon.com Inc. Prepares to Take 1-Hour Delivery Mainstream