New APWU MOU Regarding Peak Season Exception Periods and the Use of Annuitants
APWU, USPS has signed a Memorandum of Understanding (MOU) to reemploy retirees as Holiday Clerk Assistants (HCAs) during the "peak" season.
The parties agreed to a, "one-time modification to change the 2016 peak exception period in Function 1 from November 12, 2016 through January 6, 2017. In Function Four, HCAs will be hired from November 12 through December 23, 2016 or November 26, 2016 through January 6, 2017. This does not extend the length of the exception periods."
In addition, the parties agreed:
 The parties reaffirm that there never was an agreement to create and post so-called "Holiday PSEs," and the Standard Position Description for a PSE (Holiday Work/Term) will be removed from BQnet.
 Letters will be sent to eligible annuitants, notifying them of the PEP opportunity, no later than August 1 of each year.
 The Postal Service will provide the APWU at the national level with the number of annuitants hired and hours utilized for each week of the exception period (this is in addition to the requirement to provide HCA numbers.)
***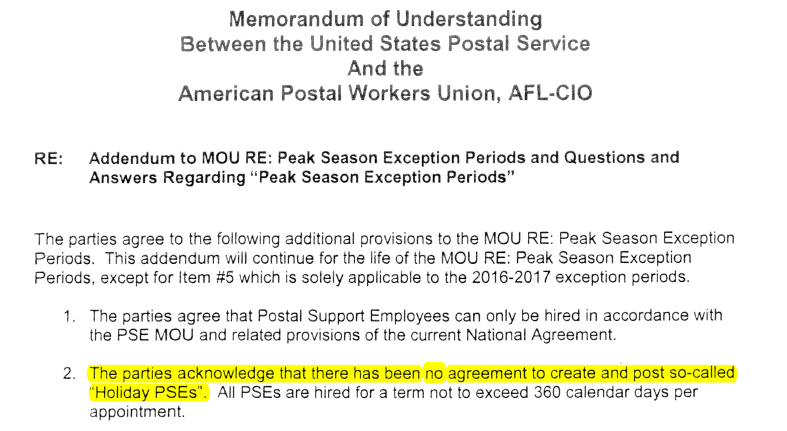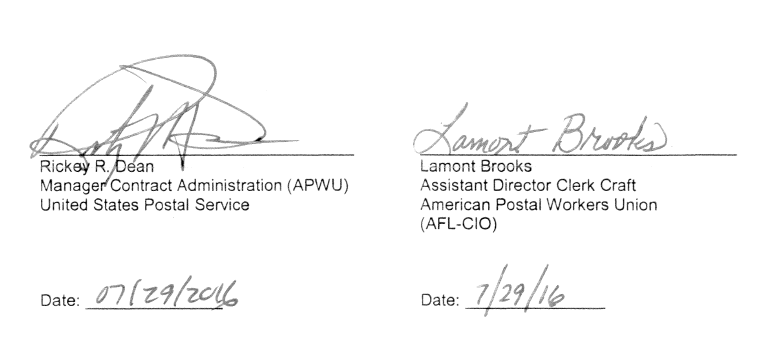 note: This is only a partial copy of the MOU
This MOU doesn't explain who are considered "eligible annuitants." How does the retiree get an invitation if they moved more than one year ago?
Last year: USPS Offer to APWU Retirees for Holiday Clerk Assistant
APWU, USPS sign agreement to hire retirees as "Holiday Clerk Assistants"