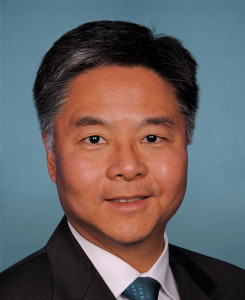 During a recent hearing of the House Committee on Oversight and Government Reform, Congressman Ted W. Lieu (D | Los Angeles County) questioned "Postmaster General Megan Brennan about multiple issues with mail delivery and mail theft experienced by his constituents in California's 33rd District."
Leiu stated "We have had a number of difficulties with service in my district. First, when we contacted the post office, they were able to help get about 97% of the cases resolved. The problem is, we continue to get more and more cases and they look like a systemic issue in western Los Angeles County."
According to the Daily Breeze: Lieu told Brennan his district staff have had to meet local postal officials on "numerous occasions" to discuss inadequate mail delivery and he wanted to see a commitment from the USPS to fix the chronic issues.
Lieu noted that Beverly Hills has suffered particularly severe problems with mail delivery. The local newspaper has experienced the problems first-hand, sometimes going several days without receiving mail at its office, it reported last year.
Brennan promised to follow-up and noted that the USPS has made adjustments to staffing and transportation in Beverly Hills in response to complaints.
The Daily Breeze also periodically receives anecdotal reports of mail delivery problems from local residents.