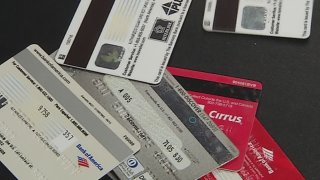 SANTA ANA – A former processing clerk at a United States Postal Service center in Santa Ana pleaded guilty on Monday to stealing more than 6,000 credit cards from undelivered mail.
Through a Vietnamese interpreter, Chinh Vuong, 48, of Garden Grove pleaded guilty in federal court to one count of conspiracy to commit bank fraud and one count of aggravated identity theft.
He faces a sentence of two to 32 years in prison when he returns to court for sentencing next year.
Prosecutors said Vuong, who had worked as a mail clerk since 1989, stole credit cards and then sold them.
It is not clear how long he was running the scam, authorities said, but over the course of a year he stole 6,240 credit cards by stuffing them into his waistband and carrying them out to his car on his break. Read more
 Here is a previous press release from the US Attorney's office
Former Postal Employee Makes Appearance in Federal Court After Agreeing to Plead Guilty to Stealing from the Mail and Selling At Least 6,240 Credit Cards
July 5, 2016 SANTA ANA, California – A Garden Grove man who worked for the United States Postal Service for more than two decades appeared in federal court this morning after agreeing to plead guilty to stealing from the mail and selling at least 6,240 credit cards.
Chinh Vuong, 48, was summonsed into federal court this morning.
Vuong was charged last week with one count of conspiracy to commit bank fraud and one count of aggravated identity theft for stealing mail while on the job for a year and using the information in the mail for identity theft.
"Postal employees have a duty to conduct postal business in a professional manner, to ensure the proper delivery of the public's mail," said United States Attorney Eileen M. Decker.  "This defendant, who was entrusted with providing this important public service, victimized thousands of postal customers to finance a life of luxury.  Such conduct is contrary to the long-established tradition of the postal service and its employees, whose honest delivery of mail contributes every day to the economic vitality of our country."
According to the documents filed in the case, Vuong had worked at the United States Postal Service Santa Ana Processing and Distribution Center ("Santa Ana P. & D.C.") as a mail processing clerk since 1989. Between October 6, 2014, and October 6, 2015, while working at the Santa Ana P. & D.C., Vuong stole at least 6,240 credit cards from undelivered mail for the profit of him and others. Vuong made at least $6,000 per month selling stolen credit cards.
Vuong used the funds from the sale of stolen credit cards to pay for personal expenses, including designer handbags and boots, two BMWs, alcohol, and drugs. On October 6, 2015, federal authorities searched Vuong's Garden Grove residence and seized approximately 199 stolen credit cards and luxury items bought using the proceeds from selling stolen credit cards, including two BMWs and over 20 handbags made by brands like Prada, Louis Vuitton, and Gucci.
Special Agent in Charge Brian Washington added, "The USPS OIG conducts internal investigations to include mail theft and misconduct by postal employees. The overwhelming majority of postal employees are honest, hardworking and trustworthy individuals who would never consider engaging in any form of criminal behavior. However, when a postal employee betrays that trust, our special agents vigorously investigate those matters as has been done in this case."
Robert Wemyss, Postal Inspector in Charge of the Los Angeles Division, stated "The overwhelming majority of Postal Service employees work conscientiously to move the nation's mail to its proper destination. When that trust is compromised the United States Postal Inspection Service takes proper investigative steps to have them and their co-conspirators prosecuted."
"Citizens need to rely on the security of the U.S. mail and the integrity of the postal carriers with whom their correspondence and their privacy is entrusted," said Deirdre Fike, the Assistant Director in Charge of the FBI's Los Angeles Field Office. "By lining his pockets through identity theft, Mr. Vuong breached the trust placed in him by citizens who paid his salary and the companies which sustained a financial loss."
Vuong entered not guilty pleas this morning and his matter was assigned to United States District Judge Cormac J. Carney. Although a trial date of August 30 was set, it is expected that Judge Carney will set a change of plea hearing in the near future where Vuong will plead guilty to both counts.
The charge of aggravated identity theft carries a mandatory minimum sentence of two years in federal prison—which must run consecutively with the sentence imposed for the bank fraud conspiracy charge. The bank fraud charge conspiracy carries a statutory maximum sentence of 30 years.
The investigation into Vuong was conducted by United States Postal Inspection Service, United States Postal Service Office of the Inspector General, and the Federal Bureau of Investigation.  Westminster Police Department also provided assistance in the investigation.