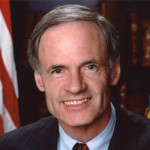 In a statement lauding outgoing Postmaster General Patrick Donahoe for his service, Sen. Tom Carper (D-DE) at the same time questioned the choice of Postal Service COO Megan Brennan as Donahoe's successor.
"At a time when the future of the Postal Service is unclear, largely because of Congress's inability to agree on a comprehensive reform bill, it's important that the Board of Governors has the best person it can find to take the helm," Carper said in a statement issued last Friday, the day Brennan's appointment was announced. "I am eager to learn more about the Board's process to find a new Postmaster General and hope that it conducted a robust and thorough search before appointing Ms. Brennan."
Carper also expressed concern about a quorum on the Postal Board of Governors, a body designed to include nine members that currently seats only four. He warned that, if five pending nominees to the board are not confirmed by the Senate before December 8, it would not be able to conduct business, leaving postal management to act without its oversight.
"More than ever, the Postal Service needs bold leadership that will enable [it] to emerge from its current difficulties, pursue promising new ideas, foste
via Carper Questions Brennan's Appointment as Postmaster General – Direct Marketing News