Issa seeks to stamp out Postal Service's move into finance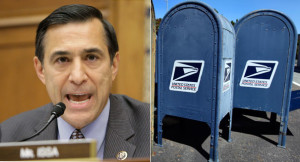 Allowing the U.S. Postal Service to expand into the financial service industry would be "unacceptable" and a "massive expansion" of the government power, a key lawmaker said Friday.
As an executive branch agency, Rep. Darryl Issa, R-Calif., said any expansion of the Postal Service's ability to generate revenue from non-postal methods poses "serious fair competition" concerns.
"Currently, the Postal Service pays no federal, state, or local taxes, is exempt from most state and local laws, and is implicitly backed by the taxpayer in the event of bankruptcy," Issa said in a statement. "With these inherent advantages over the private sector, allowing USPS to expand into broad new arenas, such as the financial service industry, would be unacceptable and represent a massive expansion of the power of government."
Issa, chairman of the House Oversight Committee, which has jurisdiction over the Postal Service, said H.R. 2748 would strengthen the statutory prohibition on nonpostal, nongovernmental activity that was put in place under the Postal Accountability and Enhancement Act of 2006. If passed, the bill would create a new regulatory framework requiring any new nonpostal activity to be specifically authorized by Congress to eliminate any possible ambiguity under current law.
Issa seeks to stamp out Postal Service's move into finance