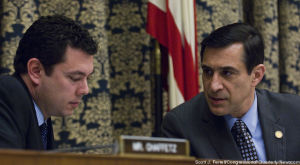 Rep. Jason Chaffetz (R-Utah) on Tuesday won a competitive four-way race to become the House Oversight Committee chairman in the new Congress starting in January.
Chaffetz and Reps. Jim Jordan (R-Ohio), Mike Turner (R-Ohio) and John Mica (R-Fla.) vied to succeed current Oversight Chairman Darrell Issa (R-Calif.), who is term-limited, for the high-profile gavel.
All four candidates emphasized throughout their candidacies that they'd try to run the committee differently from Issa's controversial tenure.
Over the course of the last two days, the House GOP Steering Committee, a panel consisting of elected leadership, top committee chairmen and regional representatives that determines gavel assignments, interviewed candidates and voted on who should win the chairmanships.
Oversight was the most contested race this year.
Two of the candidates, Jordan and Turner, hailed from Speaker John Boehner's (R-Ohio) home state, inserting another wrench into the mix.
Ranking committee member Elijah Cummings (D-Md.) congratulated Chaffetz and said he's looking forward to collaborating with him.
via Chaffetz succeeds Issa on Oversight | TheHill.