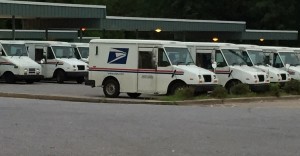 Rep. Chris Van Hollen says his office is still receiving complaints about mail service in Bethesda, despite promises from U.S. Postal Service (USPS) officials three months ago that the problems related to late deliveries, deliveries to the wrong address and periods without any deliveries would be fixed.
In a letter sent last week to Postmaster General Megan Brennan, Van Hollen wrote the complaints have been prevalent from residents who receive mail from the Westlake Post Office in Bethesda ZIP code 20817 and the Wheaton Post Office in Silver Spring ZIP code 20902.
"My staff has been in frequent communication with local post office managers to rectify these problems," Van Hollen wrote. "Although corrective action has been taken in some cases, including placing mail alert cards at addresses and giving service talks to post office employees, the issues persist."
Letter to Postmaster General by Aaron Kraut
Complaints Persist About Mail Delivery From Post Office in Bethesda
Postal Officials Assure Bethesda and Chevy Chase Residents that Service Problems Will Be Fixed
Frustrated Chevy Chase and Bethesda residents told U.S. Postal Service (USPS) officials Thursday night about a litany of delivery problems.
About 20 residents attended the meeting at the Westlake Post Office on Motor City Drive, where six local United States Postal Service officials sat at a long table at the head of the room and listened as resident after resident complained about receiving their neighbors' mail, not receiving mail and the post office failing to hold mail.
"This is not just a problem that's one or two people," said Mike Perez, an Old Georgetown Road resident. "This is a big problem and it really shows a lack of service mentality and commitment to your customers."
After the airing of concerns, Michael Vecchitto, who oversees U.S. Post Office operations in Montgomery County, said the problems will be fixed. He said he installed a new management team after taking over operations in the county a year ago.
"I commit to you we will get it straightened out," Vecchitto said. "It's embarrassing, you've heard enough apologies. It's simple, basic service that we should provide. I am a resident of Bethesda, I expect the same service."
John Samuels, the USPS district marketing manager, said residents should see "immediate changes" in the performance. Samuels also said the post office would have a "service talk" with its employees and schedule a follow-up meeting in 90 days to see if service has improved for residents.