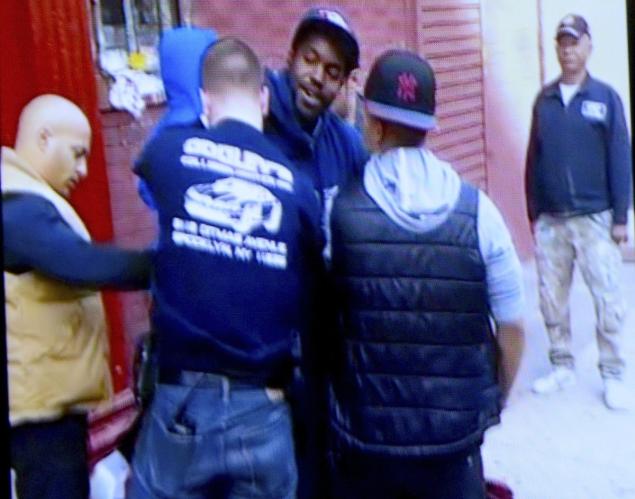 Glenn Grays, 27, of East New York, says he was driving along President St. in Crown Heights on March 17 when an unmarked police car nearly hit his mail truck.
Frustrated, the postal worker shouted something out of his window at the unmarked police car — which promptly stopped, backed up and disgorged four plainclothes cops and a lieutenant.
From that point on, Grays' run-in with the plainclothes police was captured on cellphone video by bystanders, who can be heard repeatedly asking the officers why the mailman was stopped.
The video shows the cops asking him for identification, and Grays answers that it's in his mail truck.
He was cuffed and put in the back of the unmarked vehicle, which then drove away — leaving the postal van unattended.
Grays was charged with disorderly conduct and issued a summons to appear in court.
On May 12, 2016, The Brooklyn District Attorney Ken Thompson Announced Dismissal Of Charges against Postal Carrier Glen Grays
"In the interest of justice I asked the Court to dismiss the disorderly conduct charge against Glen Grays, which resulted from his arrest on March 17, 2016. Mr. Grays was working his postal route in Crown Heights when he was arrested and put in handcuffs, following a driving incident involving undercover police officers."
New York Brooklyn Borough President Eric ADAMS STATEMENT ON THE DISMISSAL OF CONTROVERSIAL CHARGES AGAINST POSTAL WORKER GLENN GRAYS
"From the first moment I viewed the cell phone video footage of the questionable arrest of on-duty postal worker Glenn Grays, it was evident that he endured a clear miscarriage of justice. I thank the Brooklyn Criminal Court for righting a key piece of the wrong that this young man experienced by dismissing the spurious charges filed against him, as well as District Attorney Thompson for his support in this matter. The arrest of Mr. Grays impacted people across this country, with millions affected by seeing the troubling policing conduct he faced. The lives of young men of color hang in the balance when fundamental violations of one's civil rights are allowed to persist unchecked. I appreciate that Commissioner Bratton and the NYPD are taking the internal review of this case seriously, and I trust that we will be a stronger city, state, and nation from working to correct the root causes of this behavior."