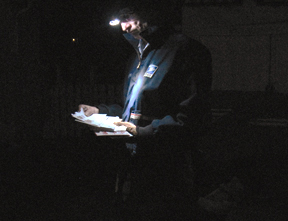 It was a dark and gloomy night. A half-moon cast its muted light through clouded skies upon the darkened streets. A soft rain fell, dampening the streets, and my spirits. The moonlight reflecting off the glistening pavement mockingly impeded my progress. But, I wasn't going to be deterred. I drove on, squinting to see the road ahead. Shapes and shadows seemed to leap out of the inky blackness as my headlights pierced the darkness. My only thought was to KEEP MOVING. I gripped the steering wheel tightly and leaned forward. I was gonna MAKE IT! I HAD TO make it! I WILL make it!
Was I on a rescue mission? Lost in the wilderness and trying to find my way out? Desperately trying to ferry someone to safety? Nope. I was in my postal vehicle trying to make it back to the station before the PM truck left. Just another day (and night) at the office!What was once highly unusual is now commonplace; letter carriers working in the dark to deliver our customers their daily mail. Due to some ill conceived policies and boneheaded decisions by national and regional management, it is now routine for us to work well beyond nightfall. Visit a Post Office after sunset and you will see the darkened parking lot a beehive of activity, as carriers unload their trucks and wheel in the returning equipment, in the dark. All the while, the owls and nocturnal raccoons are wondering, "What the hell?"
Why is this happening? Simple. Stubbornness and stupidity! Upper management decided to close our local processing facilities and move all sorting equipment to Miami. They use words like "centralize" and "synchronize" but in reality all they accomplished was to screw up the system. To steal a word from our UPS competitors, they forgot about "logistics." (Rest assured no upper level managers were negatively affected by any of this. Just carriers, clerks, and our customers. But who cares about any of them?) Now, all the mail in South Florida is trucked to Miami for sorting, then back again the next morning. The result? Mail arrives later at the stations, it takes longer to sort the parcels, and the whole system gums up. Duh!
In their drive to "cut costs" they forgot to consider how these plant closings would impact service. In addition, much to the chagrin of management, business is suddenly booming. The parcel business has exploded. No one, it seems, was prepared for this. I guess they never dreamed that our advertising and all those commercials on television would actually work. Now, we are going to start parcel delivery on Sunday in some areas. Who knew? They SHOULD HAVE! I wonder, just what is our plan for all this new business? Do we have one? Maybe we should cut our window hours so the customers won't send as many parcels?
As usual, we are slow to react. Since the time change, we are still maintaining our late starting times, which range from 8am to 10am. The first day after the time changed in early November, I finished my deliveries and made my usual parcel pickups inside the mall. When I went into the mall it was daylight, when I returned to the truck, it was totally dark. Did you ever have one of those nightmares where you are still out on the route in the dark, the truck is full of mail, you know you're late, and you're going to be in big trouble when you get back to the station? That's what I felt like. Except, I was one of the early ones back. No problem!
On conference calls, it is now routine for the unseen "voice" to ask, "How many carriers after 6pm?' "How many after 7?" Like it's nothing. 7pm!!! I wonder if some of these muckity-mucks go home after work, watch the evening news, eat dinner, put the kids to bed, then kick back for the night, and wonder, "How many carriers are still out in the street?"
Just a few years ago, it seems, we started at 6am. End tour was 2:30; with overtime, sometimes 3:30 or 4:30pm. Occasionally, you'd hear stories of some carrier in some station that worked until after 5pm. Legends would have it that somewhere a carrier didn't get back from the route until DARK! Can someone please explain to me why we can't start early again?
I give some local managers a pass because these are decisions made by higher-ups, who obviously have NO CLUE as to what's going on at the station level. Further, station managers are hesitant to speak up for fear of retribution. As far as they're concerned, they must ignore the obvious. That leaves us and our customers to suffer.
Or do they simply delude themselves? When I observe upper management in the station and they are asked about this new "night-rider" policy, they act as if it's no problem. They have accepted it. They think they're doing a good job. They think it's okay for the mail to be delivered in late afternoon or early evening! Instead of working on those issues, they write articles in our regional newsletter and scold us about sick leave and attendance. How about the DPS that comes stacked like firewood instead of on racks? Or leaving to deliver Express mail before noon, then coming back to the station to finish casing? Since when is this good business practice?
It seems this late start strategy isn't working and we should fix it.
Paul Gereffi (note: this article was written before the tragic killing of letter carrier Tyson Jerome Barnette)
NALC Branch #2550
Fort Lauderdale, FL