Top U.S. Postal Service Contractors for FY 2015
Husch Blackwell Sanders' Government Contracts Practice Group today released its list of the top 10 U.S. Postal Service suppliers for fiscal year 2015, compiled from information obtained under the Freedom of Information Act. David P. Hendel, a partner in the firm whose practice focuses on postal contracting matters, has compiled the list of the top 150 postal suppliers for the past 20 years.
According to Husch Blackwell Sanders' :
For the thirteenth (13th) straight year, FedEx is the Postal Service's top supplier. FedEx transports Express, Priority, and First Class Mail, and earned postal revenues of $1.4 billion in fiscal 2015 – more than triple the amount of the next largest supplier. Another postal competitor, United Parcel Service (UPS) , is also one of the Postal Service's top suppliers, netting $154 million in revenue and holding the 11th spot.
The second-ranked USPS supplier, EnergyUnited, provides utility auditing services, therefore much of its revenues are actually pass-throughs to other utilities.
Other transportation providers in the top 10 include Wheeler Bros. Inc, which transports mail by ground, and United Airlines, which transports mail by air.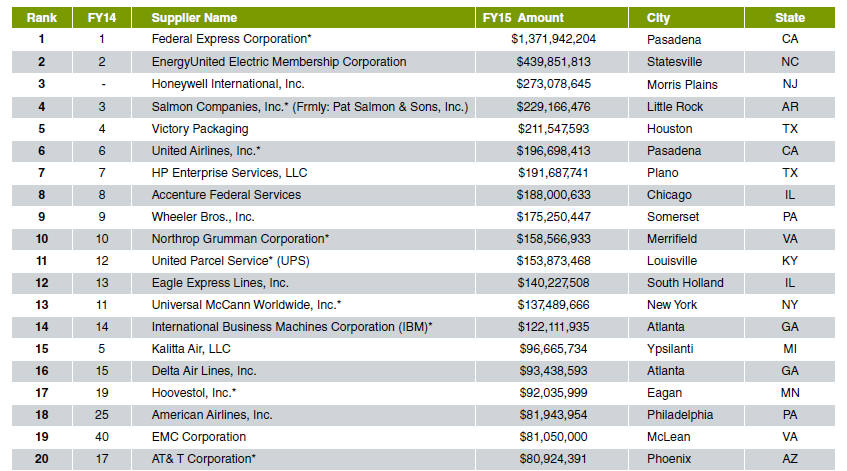 Click here to download Top 150 USPS Suppliers for FY 2015 from the Husch Blackwell web site.