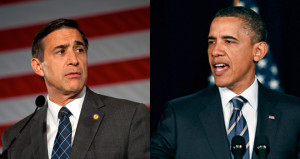 Federal employees following the mid-term congressional races should tune into another contest that could more directly affect their pay and jobs: The campaign to become the next chairman of the House Oversight and Government Reform Committee.
Current Chairman Darrell Issa, R-Calif., is at the end of his term-limited six-year tenure leading the panel, and there is no shortage of Republican lawmakers hoping to succeed him as head of one of the most partisan committees in the House. The crop of conservative hopefuls include Jason Chaffetz of Utah and Jim Jordan of Ohio.
Reps. John Mica of Florida and Michael Turner of Ohio also reportedly have expressed interest in leading a panel that, under Issa's leadership, successfully shepherded a bill through the House making it easier to fire senior executives, delved deeply into the complicated and politically sensitive issue of postal reform, and made former IRS official Lois Lerner a household name.
Chaffetz, Jordan and Mica all head Oversight and Government Reform subcommittees, so are well-positioned for the top leadership job. While Mica has the most seniority (he's been in Congress since 1993), Chaffetz has been actively positioning himself for the job this past year.
Feds Should Keep an Eye on the Race to Replace Darrell Issa