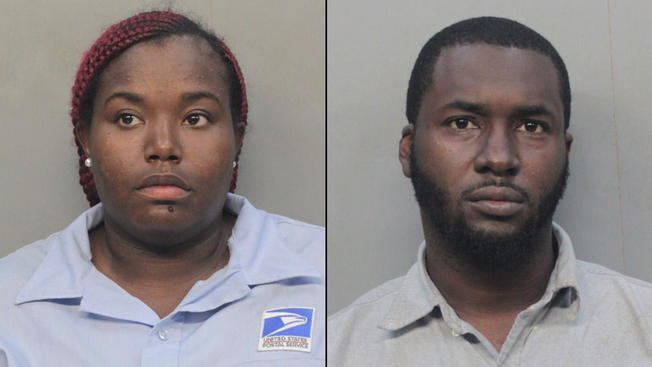 MIAMI BEACH, Fla. – A U.S. Postal Service mail carrier and her boyfriend were arrested Thursday on allegations that they stole numerous credit cards and used them in various transactions.
According to an arrest report, a USPS inspector was notified about several complaints from Miami Beach residents about mail that was never received. One of the victims called the inspector April 30 and said a letter from American Express, which contained a credit card, was never delivered.
"I had expected a new credit card from American Express," Spring Lite told Local 10 News. "It had been mailed out on a Monday and on Wednesday, I called to let them know I still didn't have it."
Police said American Express was notified and confirmed that the credit card had been used at Walmart to make a purchase of $430. 78.
Further investigation revealed that the person who made the purchase was James Macklin, 29, who was identified by a Post Office manager as the boyfriend of one of her mail carriers, Nasheria James, 28, the report said.
Mail carrier, boyfriend accused of stealing credit cards in Miami Beach