A former Republican political candidate in Indiana who authored a right-wing blog was arrested this week for allegedly mailing a pipe bomb and a threatening letter containing a bullet to two of his political opponents. The pipe bomb exploded at a post office, leaving a pregnant postal worker with "cuts, abrasions and bruises to her head, legs, and feet."
Eric Krieg, a 45-year-old resident of the city of Munster, was charged with knowing possession of a destructive device and transporting explosive materials. He was arrested on Thursday after the FBI executed search warrants at his residence, his work and on his vehicle.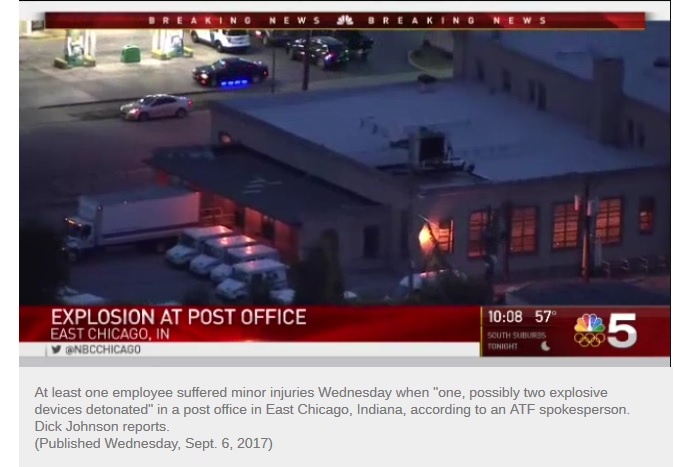 The package containing a pipe bomb that exploded at a post office in East Chicago, Indiana, on Sept. 6 had been addressed to an attorney who the feds labeled "Victim 1." The lawyer had represented a person who filed a defamation lawsuit against Krieg that was settled for around $60,000, which led Krieg to declare bankruptcy, according to the feds.
The feds say Krieg was a blogger who went by the nickname "buzzcut" and wrote a blog, "Blue County in a Red State," which is no longer active. The blog's tagline said it was about "Life in the most corrupt county in America: Lake County, Indiana." But Krieg, who was described by a local columnist as "the unofficial mud-thrower of the Lake County Republican Party," has run for county council and as country surveyor in Lake County. Read more
The complaint alleges that, on or about September 6, 2017, Krieg mailed a package at an US Postal Facility in East Chicago, Indiana that exploded. On or about September 29, 2017, Krieg mailed a suspicious package to another individual.  On October 12, 2017, search warrants were executed on Krieg's residence, place of employment and vehicle.  After executing the search warrants, Krieg was arrested on the above charges.
""