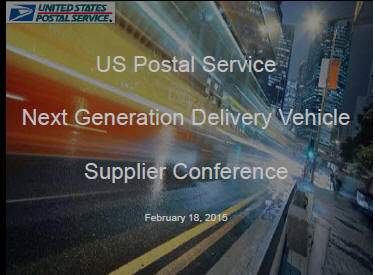 The USPS operates over 200,000 vehicles in all areas of the United States and its territories. More than 160,000 of these are right-hand drive vehicles that need to be replaced with the Next Generation Delivery Vehicle (NGDV). The potential also exists to replace the other 20,000 plus left hand drive vehicles with the NGDV along with adding this vehicle to the 30,000 plus rural routes that use their own vehicle to deliver.
The desire is to design a vehicle in which the operator's relationship with the mail delivery and vehicle operating tasks are the foremost concern of the NGDV design. The specifications for the NGDV concentrate on the design aspects of the driver-vehicle relationship and the changing mail make up with the reduction in the traditional letter and flat volume and the increase in parcels. This methodology is the result of past experience that has necessitated a vehicle that is more ergonomically correct than previous carrier route vehicles and allows for the needed space to organize and stow parcels for the growing parcel business.
The first phase will be for interested suppliers to provide a proposed vehicle that meets the following specifications. The second phase will be the award of a contract for a select few suppliers to build and provide five prototype vehicles. These vehicles will be tested for user acceptability, durability, and conformance to the requirements. The third phase will be the selection of a winning design and the procurement of a fleet of those vehicles.
In a presentation by USPS to prospective suppliers the next mail truck would need total cargo space of 330 to 400 cubic feet, a minimum clear floor space of 72″ by 108″, 76″ of headroom, and a clear bulkhead passage that's 30″ wide. USPS is requiring a larger vehicle to accommodate the growing parcel business.
Specifications

•18 – 20 year planned service life
•Right-hand steering, 2-wheel drive, 4-wheel drive option
•Heavy-duty, automatic transmission, traction-control functionality
•Rear and forward wheels align
•Van-style body with integral cargo and cab compartment constructed of aluminum alloy or composite materials; sliding side doors
•Federal Motor Vehicle Safety Standard (FMVSS) certified with driver side airbag
•Minimum 1500 lb payload capacity (driver plus cargo)
•Air conditioning (optional)