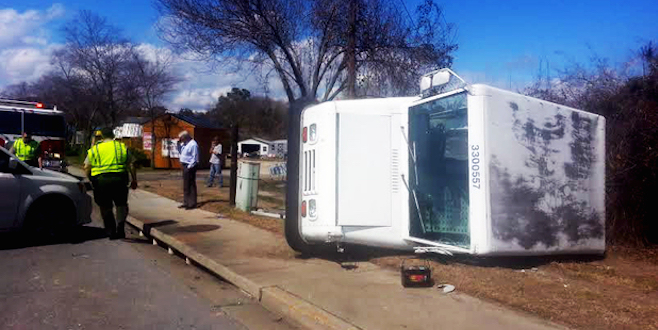 A mail truck overturned Wednesday in Beaufort after being rear-ended on Trask Parkway near the intersection of Broad River Boulevard.
The U.S. Postal Service truck left the road and flipped onto the driver's side after it was hit by a Chevrolet pickup truck about 11:20 a.m., according to S.C. Highway Patrol Senior Trooper Hannah Wimberly.
The mail truck was stopped when the wreck occurred, and the driver had just gotten back into the vehicle and had not put on her seatbelt, Wimberly said.
The mail truck driver was pulled from the overturned vehicle by good Samaritans before emergency responders arrived, Burton Fire District Battalion Chief Debora Lewis said. The woman was alert and talking.
Both drivers were transported to Beaufort Memorial Hospital with what appeared to be non-life-threatening injuries, Lewis said. Both had been released as of Wednesday afternoon, according to the hospital.
The Burton Fire District stabilized the mail truck and secured a small fuel leak in the vehicle while waiting for a tow truck.
The packages from the mail truck were unloaded and and secured by a postmaster who responded to the scene.
Mail truck overturns on US 21 in Beaufort | Beaufort News | The Island Packet.