12/4/17 U.S. Postal Service inspectors are warning people about a spike in mail thefts from postal trucks in San Jose.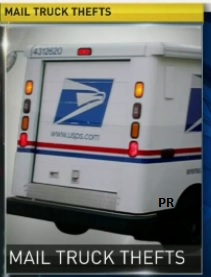 There was a string of break-ins last summer, but the problem has escalated, officials say.
The latest theft occurred on Impala Drive in San Jose last Thursday. Postal inspectors say the number of postal truck break-ins in San Jose has tripled compared to last year.
The U.S. Postal Service recently sent out 150 letters to customers notifying them that their mail may have been stolen from a postal truck parked on Fifth Street, near downtown.
Source: Mail Truck Thefts More Than Triple in San Jose