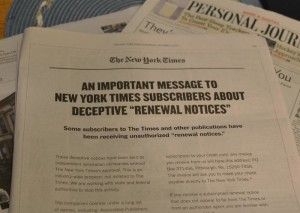 3/31/2015 – Minnesota Attorney General Lori Swanson today filed a lawsuit against several Oregon-based companies that perpetrated a nationwide scheme to mislead consumers into "renewing" their newspaper and magazine subscriptions at significantly higher rates than those charged by publishers. The companies got consumers to pay money by sending "renewal" notices that falsely appeared to be sent from or on behalf of the publisher. The companies often charged at least double the rate charged by magazine publishers for the same subscription.
"They used deceptive 'renewal' notices to get people to unwittingly pay significantly more for their newspaper or magazine subscriptions," said Attorney General Swanson.
The lawsuit was filed against four companies—Orbital Publishing Group, Inc., Liberty Publishers Service, Inc., Associated Publishers Network, Inc., and Express Publishers Service, Inc.—all of which sent renewal notices to Minnesota residents.
The companies mailed the "renewal" notices using over 60 generic names, such as Publishers Billing Center, Readers Payment Service, and Subscription Payment Services. The notice states that the consumer is receiving "one of the lowest rates we can offer for your regular subscription," even though the companies often charged double or more the rate charged by the publisher for the same magazine subscription. For example, one of the companies charged an 80 year old woman from St. Peter $79.95 to "renew" her TV Guide subscription for one year. TV Guide charges $16.50 for a one-year subscription. Another company charged a White Bear Lake woman $71.88 to "renew" her Love of Quilting subscription for two years. After she paid the company, Love of Quilting offered her a two-year renewal for $32.97.
Some consumers did not realize that the companies' "renewal" notice was not from their magazine or newspaper until they received a valid renewal notice directly from the publisher. Some consumers who attempted to cancel their orders or obtain refunds found it difficult to do so.
While the companies claim to sell subscriptions to hundreds of periodicals, they have direct authorization from few—if any—of the publishers to do so. Some publishers have sent the companies cease and desist letters to stop soliciting subscriptions for the periodical or newspaper. Because some publishers stopped accepting orders known to have originated with the companies, the companies sometimes failed to secure purchased subscriptions.
The lawsuit was filed in Hennepin County District Court. The State, through the lawsuit, seeks to prohibit the companies from engaging in deceptive direct-mail marketing, restitution for victims of the scheme, and civil penalties.
Magazine scams are often directed at senior citizens. The Attorney General's Office today issued an Alert—entitled Magazine Subscription Solicitations—to warn the public about common scams.
People may report complaints about these companies or other deceptive magazine subscription sellers to the Minnesota Attorney General's Office by calling (651) 296 3353 or 1 800 657 3787. People may also download a Complaint Form from the Attorney General's website here or write to the Attorney General's Office at: 445 Minnesota Street, 1400 Bremer Tower, St. Paul, MN 55101-2131.