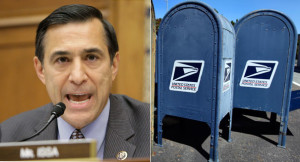 For the first time in history, most members of Congress are millionaires, according to a new analysis of personal financial disclosure data by the Center for Responsive Politics.
Of 534 current members of Congress, at least 268 had an average net worth of $1 million or more in 2012, according to disclosures filed last year by all members of Congress and candidates. The median net worth for the 530 current lawmakers who were in Congress as of the May filing deadline was $1,008,767 — an increase from the previous year when it was $966,000. In addition, at least one of the members elected since then, Rep. Katherine Clark (D-Mass.), is a millionaire, according to forms she filed as a candidate. (There is currently one vacancy in Congress.)Last year only 257 members, or about 48 percent of lawmakers, had a median net worth of at least $1 million.
Members of Congress have long been far wealthier than the typical American, but the fact that now a majority of members — albeit just a hair over 50 percent — are millionaires represents a watershed moment at a time when lawmakers are debating issues like unemployment benefits, food stamps and the minimum wage, which affect people with far fewer resources, as well as considering an overhaul of the tax code.
"Despite the fact that polls show how dissatisfied Americans are with Congress overall, there's been no change in our appetite to elect affluent politicians to represent our concerns in Washington, said Sheila Krumholz, executive director of the Center. "Of course, it's undeniable that in our electoral system, candidates need access to wealth to run financially viable campaigns, andthe most successful fundraisers are politicians who swim in those circles to begin with."
The richest member of Congress was, once again, Rep. Darrell Issa (R-Calif.) chairman of the House Oversight Committee. Issa, who made his fortune in the car alarm business, had an average net worth of $464 million in 2012. Issa had ruled the roost as the wealthiest lawmaker for several years but was bumped from that perch last year by Rep. Michael McCaul (R-Texas).
via Millionaires' Club: For First Time, Most Lawmakers are Worth $1 Million-Plus