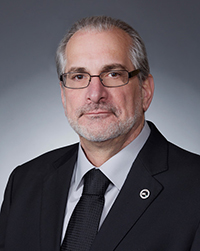 2/7/17 NALC President Fredric Rolando was among those called to testify at a House Oversight and Government Reform Committee hearing on the recently introduced postal bill, The Postal Service Reform Act of 2017 (H.R. 756).
Rolando along with USPS Postmaster General Megan Brennan, Postal Regulatory Commission (PRC) Chairman Robert Taub, Government Accountability Office (GAO) Director of Physical Infrastructure Issues Lori Rectanus and Coalition for a 21st Century Postal Service's Arthur Sackler.
Here is a portion of Rolando's pre-written testimony:
The leadership of this committee reached bipartisan consensus on a concept for addressing the prefunding burden during the last Congress, which was included in a bill (H.R. 5714) adopted by the Committee but never presented to the full House of Representatives for a vote. It included reforms to the Federal Employees Health Benefit Program (FEHBP) as it relates to
postal employees and Medicare coverage. These reforms, which are modeled on best practice in the private sector, would all but eliminate the Postal Service's unfunded liability for future retiree health benefits. We are very pleased your new bill retains these reforms.
Under H.R. 756, FEHBP plans would segregate postal employees and postal annuitants into a separate risk pool and all postal annuitants would enroll in Medicare Parts A&B when they reach 65 years old. (At present, 80-90 percent of postal annuitants already voluntarily enroll in the two main parts of Medicare.) The proposal would also give FEHBP plans access to low-cost
prescription drugs and other benefits made possible by the Medicare Modernization Act. The savings would help reduce FEHBP premium costs — and prefunding costs. Indeed, about half the reduction in the Postal Service's unfunded liability would come from prescription drug savings; the rest from maximizing the participation in Medicare Parts A and B.
This approach ensures that the Postal Service and its employees fully benefit from the $30 billion they have contributed in Medicare taxes since 1983 and adopts the standard practice of large private companies that provide retiree health insurance. This reform would effectively resolve the prefunding burden that undermines the health of the Postal Service while raising
Medicare spending by just one-tenth of one percent over the next 10 years
As the Committee prepares to mark up H.R. 756, we will suggest minor improvements to the language in two sections of the bill. With respect to integration with Medicare Part B, I am sure that is nobody's intent to require any current Medicare-eligible annuitant to enroll in the program if neither the annuitant nor the Postal Service can benefit from doing so. A modest tweak in the language would address this rare circumstance. With regard to the proposed policy of providing all new addresses with curb-line or centralized delivery, we'd suggest giving the Postal Service the flexibility to make sensible exceptions to the policy if it is more efficient or financially beneficial to do so. Again a modest tweak in the language in Section 202 could accomplish this.
We urge the Committee to quickly schedule a mark up of H.R. 756, and then to vote for its approval.
All four postal unions urge the Committee to adopt this legislation as quickly as possible. We pledge to work with all of you and our broad coalition of mailing industry partners to make this legislation a reality. Together, we can not only strengthen a great national institution to better serve the American people and its businesses, we can also show how it is possible to make our democracy work for the common good at a time of great partisan polarization