12/21/17 – The U.S. Postal Service and the National Association of Postal Supervisors have been engaged in EAS Pay Consultations for FY2016-2019 since September 21, 2017. Under Title 39, USPS is supposed to provide NAPS with a final pay package within 90 days from the start of pay talks – that is, by today.
However, in the spirit of cooperation and good faith, and in the best interest of NAPS members to attempt to achieve a fair and equitable pay agreement, NAPS and the Postal Service have agreed to extend pay talk consultations into January 2018.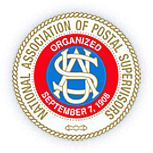 The NAPS Resident Officers thank the membership for their understanding, cooperation and patience in this matter. As we extend pay talks into 2018, pay consultation remains confidential until a final EAS pay package is received.
On behalf of the Resident Officers, entire Executive Board and NAPS HQ Staff, we wish you and yours a Happy Holiday and a healthy, happy and prosperous New Year.
Brian J. Wagner
President – NAPS
Source: National Association of Postal Supervisors