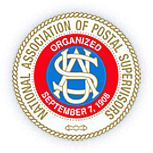 House Republican leaders are preparing a proposal to replenish the Highway Trust Fund by scaling back Saturday mail delivery.  The Highway Fund, which is running out of money, provides federal dollars for federal and state highway projects.
The so-called "modified Saturday delivery" plan being developed by House GOP leaders, including Rep. Darrell Issa (R-CA), has encountered resistance from both sides of the aisle and a number of interest groups, including NAPS, which has called it a "budget gimmick."  (You can read NAPS statement of opposition to the plan here.)
The proposal would end delivery of first-class mail, catalogs, advertising circulars, and other mail on Saturdays, but purportedly continue delivery of packages, including medications and both priority and express mail.   Post offices would remain open.
House Republican leaders say the move would save the Postal Service nearly $11 billion over the next ten years.  Those savings, however, could not later be used to offset USPS needs, like replacing its aged vehicular fleet.  Instead, those savings would offset the estimated $14 to 15 billion Congress needs now to extend the Highway Fund for just one year.  No money would change hands between the Postal Service and the Highway Fund.
The move represents one more long-criticized way that Washington plays with paper money on the federal ledger to provide fictitious savings that permit further federal spending.  The Washington Post in an editorial called it a "detour from common sense." Even the conservative Heritage Action America blasted the plan, with its spokesman saying, "The idea Congress would use a supposedly self-funding agency that cannot pay its bills as a piggy bank to fund another bankrupt, self-funding fund is absurd."
"I think it's ridiculous," Rep. Elijah Cummings (MD), the top Democrat on the House Oversight panel, told The Hill.  "I don't even want them talking about the post office."  Senate Homeland Security and Governmental Affairs Chairman Tom Carper (D-DE) called the House GOP idea "a nonstarter that kicks the can down the road yet again on resolving two issues—fixing the Postal Service and the trust fund."
Sen. Ron Wyden (D-OR), chairman of the Senate committee with responsibility for the trust fund, said his panel is looking at other alternatives.  He ridiculed the House idea, calling it a "head-scratcher,'and said his panel is planning to decide on its "preferred" approaches as early as this week.
Nonetheless, Postmaster General Patrick Donahoe favors the proposal, consistent with long-standing USPS support for moving to five-day delivery.  Donahoe tried last year to circumvent Congress and move ahead with five-day delivery on his own. He failed. This time he believes there's an additional reason for going ahead with five-day delivery, even in an incremental way.  Taking five-day delivery off the table, he believes, could remove an issue that has bedeviled Congress from enacting comprehensive postal reform legislation.