From NAPUS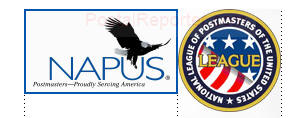 July 01, 2015 – The National League of Postmasters of the United States voted on July 1, 2015, to dissolve their 112 year old organization effective October 31, 2016. The historic vote held at the League's National Convention in Washington DC is contingent upon the adoption of a concurrent resolution at the National Association of Postmasters of the United States, (NAPUS) national convention to be held in Mobile, AL.
The dissolution clears the way for the creation of a new organization that will be incorporated as United Postmasters and Managers of America (U.P.M.A.). Membership in the new organization will be open to all Postmasters and EAS employees within the Postal Service. The new organization is scheduled to begin operation on November 1, 2016.
This consolidation will unite two long standing Postmaster organizations to speak with one united voice, and will be expanded to include all EAS employees.