Fix My Mail is a grassroots effort to hear stories from North Dakotans who have encountered delayed mail delivery times or are dealing with other problems with the U.S. Postal Service (USPS).  Senator Heitkamp has heard too many concerns from North Dakotans about the problems they face getting their mail on time, and it absolutely needs to be fixed.  So let's talk about it.

Senator Heitkamp is also asking the U.S. Government Accountability Office (GAO) to conduct a study on the postal service standards that customers experience and if that matches with what USPS is reporting.  We're hearing about terrible delivery times from North Dakotans, but USPS is saying service standards are mostly met.  That doesn't add up.  Senator Heitkamp's office will gather these stories and send them to USPS so they can hear the stories firsthand, and send them to GAO to help with the study.
Here is the press release from Senator Heidi Heitkamp (D-ND)
Heitkamp Launches New Grassroots Effort to Share North Dakota Postal Concerns with USPS, GAO
Senator Visits Western North Dakota with USPS Officials to Give Them Opportunity to Hear Directly from ND Customers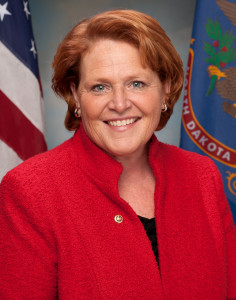 DICKINSON, N.D. – U.S. Senator Heidi Heitkamp today launched a new grassroots effort to help North Dakotans have their voices heard by the U.S. Postal Service (USPS).
Heitkamp, who serves on the Senate committee that oversees the USPS, is calling on North Dakotans to share their stories if they have encountered extensive delivery times or had to deal with other problems with their postal service. Heitkamp will then present the stories to the USPS Postmaster General and the U.S. Government Accountability Office (GAO), the independent agency she called on today to investigate the postal delivery standards North Dakotans and other Americans experience.
Heitkamp brought USPS officials to western North Dakota today to hear about the unique issues this part of the state is facing, and why it is important to address the area's postal service problems. Postal stakeholders and North Dakotans who experience USPS everyday got an opportunity to discuss their experiences and the next steps which need to be taken.
"I've heard too many concerns and complaints from North Dakotans about the problems they face with getting their mail on time, and it absolutely needs to be fixed," said Heitkamp. "To help me in my efforts to improve our postal service, I need to hear from North Dakotans. That's what the discussion today is about. And this grassroots effort will build on it by allowing us to share the challenges we face in our state directly with the Postmaster General. I encourage North Dakotans who have a story to go to my website and tell me about it."
To share their stories, North Dakotans should visit www.heitkamp.senate.gov. There, they can fill out a short form with their stories. No personal information will be shared with the USPS or GAO. North Dakotans can also post their stories on Twitter and Facebook using the hashtag #FixMyMail.
In a letter to Comptroller General of the United States Gene L. Dodaro, Heitkamp called on the GAO to conduct a study to determine the difference between the delivery service postal customers experience and what USPS measures. There has been a discrepancy between stories from North Dakotans about long delivery times, while USPS says service standards are mostly met. Heitkamp is hopeful that stories from North Dakotans will help shape the study to accurately reflect the conditions on the ground.
As a member of the Homeland Security and Government Affairs Committee, Heitkamp plays a leading role in postal service issues, and is proud of her efforts to help improve western North Dakota postal service. During Congress' work on comprehensive postal reform legislation, Heitkamp is committed to making sure rural areas have fair access to the postal service and postal employees are treated fairly.