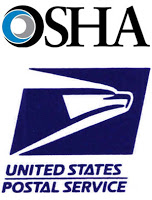 Employer name: U.S. Postal Service
8182 State Road 56
West Baden Springs, Indiana
Citations issued: July 29, 2016
Investigation findings: The U.S. Department of Labor's Occupational Safety and Health Administration's Indianapolis Area Office has cited the West Baden Springs' postal facility for four repeated violations. Acting on a complaint alleging safety concerns there, inspectors began an investigation on June 3, 2016, and found violations of OSHA's asbestos protection standards.
OSHA found USPS failed to:
Provide awareness training for employees that worked around broken mastic and tile contained asbestos.
Promptly clean up spills and releases of presumed asbestos containing material.
Ensure the use of dry sweeping to clean up asbestos containing materials.
Label areas with materials identified as containing asbestos.
Quote: "Until the early 1980s, asbestos – now, a known carcinogen – was used commonly in building materials such as floor tiles. Employers in workplaces with materials known to contain asbestos must train workers to take precautions when a spill or scratched tile creates the potential for a release of asbestos fibers," said Vanessa Martin, OSHA's area director in Indianapolis.
Proposed Penalties: $49,720.
View Citations here.