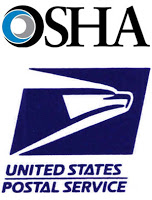 OSHA cites Urbandale, Iowa postal facility for violations
URBANDALE, Iowa-
The U.S. Department of Labor's Occupational Safety and Health Administration's Des Moines Area Office cited the postal facility for two repeated and one serious safety violations.
The citations follow an October 2015 OSHA investigation of a complaint alleging forklift operators were handling unstable loads and driving forward with no clear path of visibility.
The inspection found that employees were exposed to crushing and struck-by hazards associated with operating powered industrial trucks.
The facility is part of the national system of highly mechanized and automated mail processing with a transportation network dedicated to handling and moving standard mail, periodicals, package services and other mail classes.
Quote: "Each year, thousands of workers are injured – some fatally – while operating forklifts. Employers with workers who move materials with forklifts must ensure loads are stable, and pathways are clear to prevent injury," said Larry Davidson, OSHA's area director in Des Moines.
Proposed Penalties: $88,000
Citations issued: April 6, 2016