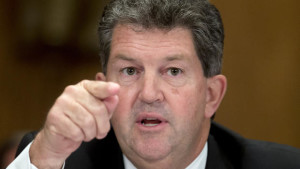 Postmaster General Patrick R. Donahoe blames unions and mailers in farewell speech at National Press Club
In his farewell speech at the National Press Club today, outgoing Postmaster General Patrick R. Donahoe suggested that union and mailer groups' "shortsightedness and myopia" have impeded efforts in Congress to modernize USPS. Donahoe also suggested that young people entering the workforce today really don't want "generous health care and pension benefits."
From the Washington Post:
"At some point in time, people have to start thinking about the future," he said, not hiding his impatience with lawmakers and stakeholders who he said are too focused on their own self-interest. As for what the future of the mail will look like, it will not be "a person putting a piece of mail in a blue mailbox," he said, but rather a far leaner organization, with a smaller workforce and less generous health care and pension benefits, that competes for e-commerce business, online advertising and other Internet-based services.
Our labor unions view the future of the organization mostly through the lens of preserving jobs and benefits as they currently exist. Technology is driving dramatic changes in delivery services – just look at how Amazon is offering one-hour delivery in New York City. The Postal Service needs the flexibility to be a part of those changes – and more importantly, to shape those changes.

He described business interests that use the mail, from banks and credit card companies to direct-mail advertisers, as excessively focused on limiting price increases –even as the lack of broad legislation from Congress puts more pressure on postal officials to raise mailing prices. And he accused unions of singlemindedly fighting to preserve jobs and benefits with too little flexibility.

"Most young people aren't looking for a single employer over the course of their careers," Donahoe said, describing a new generation of American postal workers that enjoys fewer benefits. "In today's world, does it really make sense to offer the promise of a government pension to a 22-year-old who is just entering the workforce? And how reliable is that promise?"
via Postmaster general takes parting shot at unions, mailers – The Washington Post.
In PMG's prepared speech to the National Press Club he wrote:
Just last year the American Postal Workers Union mounted a protest campaign and disrupted our partnership with Staples, which was a great business partner for the Postal Service. The Postal Service partnered with Staples to provide our customers with more convenient access to a wide range of our products and services in roughly 82 Staples stores. It was successful in terms of driving greater revenue for both partners.
Unfortunately, the APWU approach is to try to keep all of our transactions in Post Offices. That's not convenient for our customers and it's not a smart retail strategy for our business. We'd much prefer to be able to sell our products and services with a multitude of retail partners and be in popular locations to make it easier and more convenient for people to do business with us.
Unfortunately, the APWU approach is to try to keep all of our transactions in Post Offices.It's an example of the arrow, near-sighted view winning over the broader, long-term strategy. Unfortunately, it's now tougher for us to find retail partners.
New York Times: Postal Chief Says Congress and Unions Block Progress
http://www.nytimes.com/2015/01/07/us/politics/postal-chief-says-congress-and-unions-block-efforts-to-restore-financial-health.html?_r=1
Washington Post: Postmaster General Takes Parting Shot at Unions, Mailers
http://www.washingtonpost.com/blogs/federal-eye/wp/2015/01/06/postmaster-general-takes-parting-shot-at-unions-mailers/?tid=hpModule_14fd66a0-9199-11e2-bdea-e32ad90da239&hpid=z13
Washington Post: Postmaster General Hits Unions on His Way Out
http://www.washingtonpost.com/politics/federal_government/postmaster-general-hits-unions-on-his-way-out/2015/01/06/238991aa-95cd-11e4-8005-1924ede3e54a_story.html
USPS: Postmaster General Addresses National Press Club – Farewell Address Offers Perspective and Advice for Postal Stakeholders/Congress
http://about.usps.com/news/national-releases/2015/pr15_001.htm
USA Today: Holidays Deliver for Postal Service, But Losses Mount
http://www.usatoday.com/story/news/nation/2015/01/06/usps-postal-service-donahoe/21329089/
UT San Diego: Departing Postmaster General Slams Banking Duties
http://www.utsandiego.com/news/2015/jan/06/departing-postmaster-general-slams-banking-duties/
Federal News Radio: Postmaster General: 'Myopia' from Congress, Unions Stifling USPS
http://www.federalnewsradio.com/537/3774540/Postmaster-General-Myopia-from-Congress-unions-stifling-USPS
Federal Times: Outgoing Postal Service Chief Renews Reform Fight
http://www.federaltimes.com/story/government/management/agency/2015/01/06/postmaster-general-postal-service-call-reform/21334641/