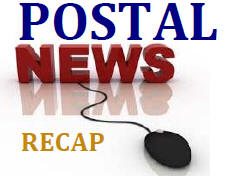 Postal News Recap
OIG White Paper: USPS financial condition, higher postage rates due to prefunding In the past 8 years, the Postal Service's financial condition has significantly worsened from making large prefunding payments for retiree health care. Postal Service customers were charged for increased postage, in part, because of these prefunding requirements.
Video: Misstep or policy: Scooter not allowed in post office the people in charge of the post office on Lake Drive in Grand Rapids' Eastown neighborhood apparently aren't fans of Carroll's scooter. She contacted Target 8 after a recent trip to the post office turned frustrating
Postal Salaries Database Updated 2015  – database of salaries covering career and non-career postal employees. Excluded from the payroll data are bonuses and other performance awards.
New York: Postal carriers brave bitter cold to deliver
Posts or puzzles, mail carrier has a way with letters
Sale of Historic Princeton Post Office Moves Forward
The Best Things You Can Do With An Old Mail Truck
Uniontown Post Office Closed After Man Cuts His Own Hands, Smears Blood on the Walls