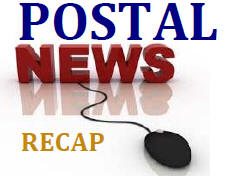 Postal Worker charged with identity theft can remain on job
HOUSTON – A 26-year-old Houston postal worker may already be back on the job just one day after being charged by the feds. D'angela Domio [a City Carrier Assistant for two years] and five others are accused of preying on people's personal information and stealing money.
Video: Mail carriers in Northern California working late into night due to staffing shortage
BERKELEY, Calif. (KGO) — Some East Bay communities aren't seeing their mail carriers until after midnight. It's an unprecedented situation affecting parts of Oakland, Concord and Berkeley. A mail carrier, who asked not to identified, was delivering mail Thursday well after 6 p.m. — that's the post office's typical delivery deadline.
Illinois Mail Handler fired for attendance loses case against USPS, NPMHU
The U.S. Postal Service fired Daniel C. Coker as a mail handler after he accrued too many unscheduled absences. An arbitrator upheld the decision to fire him, and Coker filed a lawsuit.
Trump Upset Promises Massive Change in Government November 9, 2016
APWU President Dimondstein's statement on 2016 election results –11/10/2016 – To APWU Members across the country, The Presidential -Thu, Nov 10, 2016
NALC President Rolando's statement on 2016 election results November 9, 2016
Mail Handlers Union President's statement on election results –Tuesday's election defied expectations and set historical precedents. Thu, Nov 10, 2016
NARFE Congratulates President-elect Trump and Newly Elected Members of the 115th Congress November 9, 2016
Las Vegas airport worker sentenced for stealing mail being loaded on airplanes –LAS VEGAS, Nev. – An employee responsible for handling mail Fri, Nov 11, 2016