5/26/16 On June 30, 2016, in Nashville, TN, the U.S. Postal Service® will issue Soda Fountain Favorites stamps (Forever® priced at 47 cents) in five designs, in a pressure-sensitive adhesive (PSA) convertible booklet of 20 stamps.
The stamps will go on sale nationwide June 30, 2016.
In 2016, the U.S. Postal Service celebrates soda fountain favorites — the cold, sweet treats beloved by people of all ages. This First-Class Mail® Forever booklet of 20 stamps features five different illustrations: a double-scoop ice cream cone, an egg cream, a banana split, a root beer float, and a hot fudge sundae. The geometric silver-toned patterns in the selvage and on the booklet cover evoke a classic chrome-accented soda fountain. The words "Soda Fountain Favorites" appear across the top of the booklet cover. Art director Ethel Kessler designed the stamps, with illustrations by Nancy Stahl.
How to Order the First-Day-of-Issue Postmark
Customers have 60 days to obtain the first-day-of-issue postmark by mail. They may purchase new stamps at their local Post Office, at The Postal Store® website at http:⁄⁄www.usps.com⁄shop, or by calling 800-782-6724. They should affix the stamps to envelopes of their choice, address the envelopes (to themselves or others), and place them in a larger envelope addressed to:
Soda Fountain Favorites Stamps
Metro Station Post Office
2245 Rosa L. Parks Boulevard
Nashville, TN 37228-9998
After applying the first-day-of-issue postmark, the Postal Service™ will return the envelopes through the mail. There is no charge for the postmark up to a quantity of 50. There is a 5-cent charge for each additional postmark over 50. All orders must be postmarked by August 30, 2016.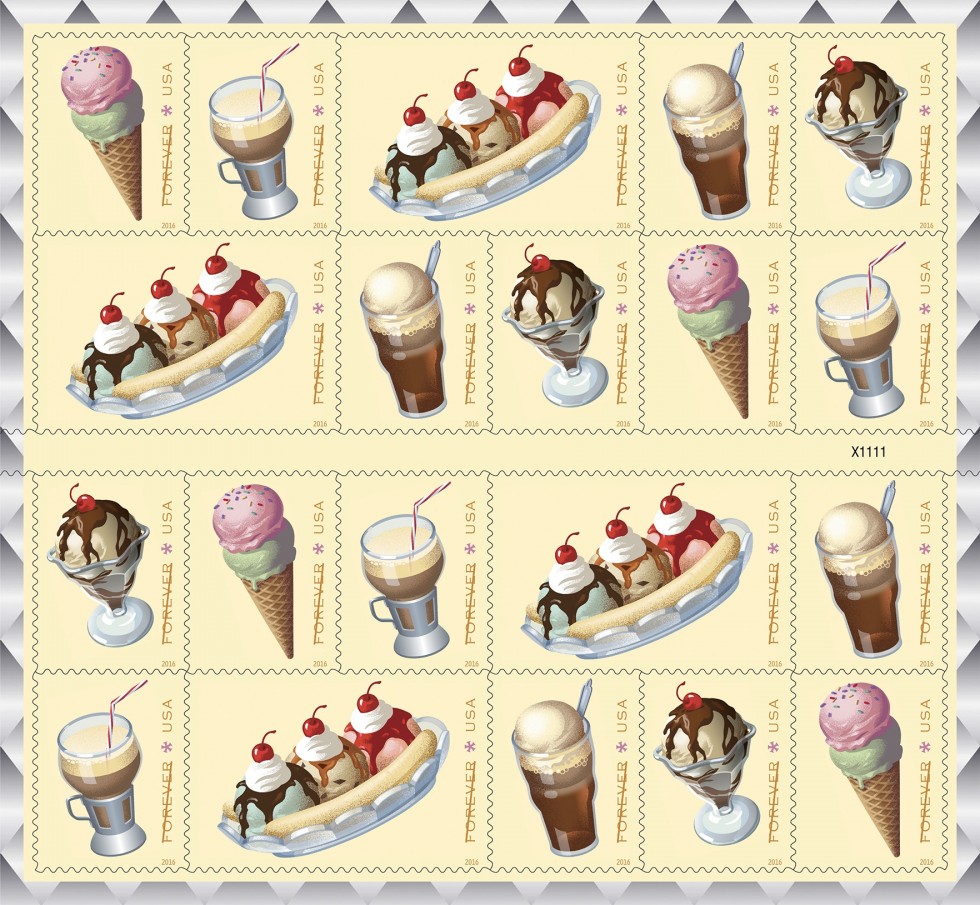 How to Order First-Day Covers
The Postal Service also offers first-day covers for new stamp issues and Postal Service stationery items postmarked with the official first-day-of-issue cancellation. Each item has an individual catalog number and is offered in the quarterly USA Philatelic catalog, online at http:⁄⁄www.usps.com⁄shop, or by calling 800-782-6724. Customers may request a free catalog by calling 800-782-6724 or writing to:
U.S. Postal Service
Catalog Request
PO Box 219014
Kansas City, MO 64121-9014
Philatelic Products
There are six philatelic products for this stamp issue: