5/9/17 URBANDALE, Iowa — It seems like a simple piece of "ignorance and fireworks don't mix."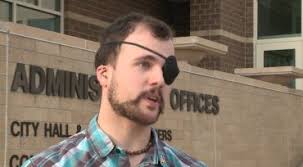 Urbandale postal worker Ben Allen said he has become a visual example of how devastating fireworks can be when in the wrong hands.
"It's impaired my eye. It is no longer moving freely and no vision whatsoever," he said.
In March, Ben was on his normal mail delivery route in Urbandale. "66th and Roseland. It was right there on the corner," Ben remembers vividly.
That's when several young adults hurled fireworks at his face. He said, "All there was, was a very loud bang and then nothing. This ear was ringing."
"I don't know if I'll ever work for the post office in the same manner. It hurts," said Ben.
source: Postal Worker Assaulted With Fireworks Opposes Governor's Legalization