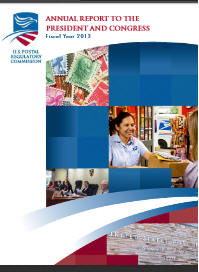 From the Postal Regulatory Commission:
Washington, DC – The Postal Regulatory Commission has established Docket No. PI2014-1, to invite public comments on the meaning of "other public services or activities" by the Postal Service under 39 U.S.C.3651(b)(1)(C) for cost reporting in its Annual Report to the President and Congress.
In its Annual Report, the Commission is required to report an estimate of the costs incurred by the Postal Service to provide other public services or activities which, in the judgment of the Commission, would not otherwise have been provided by the Postal Service if the service wasn't a legal requirement.
The Commission's 2013 Annual Report estimated the costs of delivering mail six days a week instead of five days, and revenue "lost" from unzoned First-Class Mail and Library/Media rates. The Commission has noted that this approach may be too narrow and would like to receive comments on the cost of other Postal Service activities.
In early 2014, the Commission asked the Postal Service to provide an analysis of activities that could qualify for cost reporting. A copy of the Postal Service's assessment is available in Docket No. PI2014-1.
The Commission will receive comments from all interested parties no later than September 17, 2014, and reply comments no later than October 1, 2014.
Additional info from PRC:
"In early 2014, the Commission requested that the Postal Service provide its views on the universe of "other public service or activities" that it believes the Commission should review under section 3651(b)(1)(C), including an estimate of these costs. The Postal Service submitted an analysis of activities that could qualify for reporting under section 3651(b)(1)(C)…." In its analysis, the Postal Service identified the following activities for potential future reporting:
(PR note: Postal Reporter included  the Postal Service's analysis submitted to PRC of some items in bold)
 Employee and retiree health benefits;
 Federal retirement benefits;
 Binding arbitration of labor issues;The requirement that the Postal Service resolve differences with labor associations through binding arbitration produces a significant cost impact. For example, arbitration awards – and agreements negotiated against the backdrop of binding arbitration – have perpetuated "no layoff' clauses, wage premiums, leave policies, and outsourcing restrictions that are more generous to employees than those found in the private sector. However, to isolate the precise effect of binding arbitration per se, it would be necessary to make assumptions about hypothetical outcomes if the Postal Service and its employees had instead been subject to alternative dispute resolution methods, including the ability to resort to strikes and lockouts.
 Postal Inspection Service; The Postal Inspection Service is an integral part of America's postal system, and various statutes indicate at least an implicit Congressional expectation that the Postal Service will conduct law enforcement activities." A private sector employer of course, would not be responsible for maintaining and financing a dedicated law enforcement agency. It is conceivable that Congress could decide to formally establish a postal law enforcement agency and to support it with public funds, as with other federal law enforcement agencies, or to have other existing, publicly funded law enforcement agencies assume the Postal Inspection Service's functions. In FY2013, the Postal Inspection Service's net cost was $410.7 million.
 Office of Inspector General; The Postal Service's Office of the Inspector General (OIG) performs numerous functions, the most central of which are to audit and investigate potential instances of fraud, waste, and abuse. In its FY2014 appropriations act, Congress appropriated approximately $241.5 million to support the OIG out of Postal Service revenues. If the Postal Service were another federal entity, Congress would provide public funds to cover these costs. Moreover, while a private entity not subject to DIG requirements might perform similar internal audit tasks, it would not create a parallel, independent entity that duplicates many internal functions.
 Merit Systems Protection Board and Equal Employment Opportunity Commission appeals; Although equal employment opportunity (EEO) laws apply to federal entities, including the Postal Service, as well as to private entities, those laws apply differently to the two types of employers.
• Unlike private-sector employers, the Postal Service cannot seek de novo judicial review of adverse Equal Employment Opportunity Commission (EEOC) rulings, including class action certifications. Thus, there is no avenue for the Postal Service to appeal and overturn an ill-founded or unjust EEOC ruling, as there is for private-sector employers.
• In many states, and under private-sector EEOC procedures, private-sector employees can pursue their claims only in court, not in an administrative process geared toward laypersons, as is the case for federal employees.
The EEOC uses a more lenient standard to allow class action lawsuits by Postal Service and other federal employees than do the courts with respect to non-federal employees, further lowering the bar to litigation.
• Federal employees are able to use paid official time to work on their EEO complaints, while private employees have no such right.
• The EEOC requires agencies to bear many of the institutional costs of the hearing process, including providing hearing sites and transcripts to complainants and the EEOC.
These differences are believed to account for a larger number of EEO complaints against the Postal Service than a comparable private-sector employer experiences.Consequently, the Postal Service bears higher administrative costs associated with the EEO process, and is exposed to a higher potential for payouts.
In addition, many Postal Service employees can appeal adverse employment actions to the Merit Systems Protection Board (MSPB). Private-sector employees do not have such rights, particularly to the extent that their employment is at-will. While other federal entities' employees have MSPB appeal rights, those entities can use their publicly-funded budgets to support administrative and litigation expenses arising from MSPB appeals.
The Postal Service's combined cost of administering complaints, appeals, and litigation and paying litigation outcomes in FY2013 is estimated at approximately $64 million for EEO-related matters and approximately $9 million for MSPB appeals.
 Federal workers' compensation program; and
 Other regulatory requirements, including Postal Regulatory Commission funding and aspects of service performance measurement, emergency detection and response, and federal purchasing requirements.