Just Two Months Ago, Heitkamp Brought Postmaster General Brennan to ND to Hear Firsthand the Impact Challenges such as Post Office Closures Have on Rural Communities
BISMARCK, N.D. – U.S. Senator Heidi Heitkamp today called on U.S. Postmaster General Megan Brennan to take concrete steps to protect quality mail delivery and service in Amidon and Halliday now and in the future following the news of the anticipated post office closure in Amidon and service disruption in Halliday.
Heitkamp pressed Brennan to make sure her agency is listening to the needs of the Amidon and Halliday communities, and to communicate a comprehensive plan on how the needs of both communities to access the full array of postal services will be met.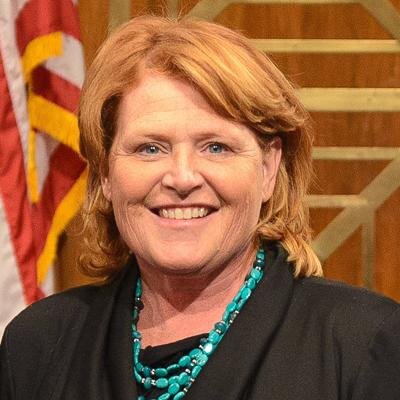 "No North Dakotan should have to see their standard of service interrupted or their local post office disappear – but too often, many rural families and businesses experience disruptions – without much prior warning, explanation, or future plan in place from USPS," said Heitkamp. "That's unacceptable. Today I called on Postmaster General Brennan to address the recently announced post office challenges in Amidon and Halliday – communities that rely heavily on mail service. It's absolutely critical that the Postal Service not only listens to their concerns, but communicates a solid plan on how their service will be maintained. When I brought Postmaster General Brennan to Bismarck two months ago, I know she heard the challenges expressed by our business owners and community members loud and clear – and I'll keep pressing to make sure the Postal Service puts the lasting solutions we discussed to work for mail service folks can count on."
Click here to read Heitkamp's letter to Brennan about the impending post office closure in Amidon, and here to read her letter to Brennan about the post office closure in Halliday.
Today's call builds on months of Heitkamp's work to improve mail service across North Dakota – particularly in rural areas – through her Fix My Mail initiative and survey, to which hundreds of North Dakotans have responded with stories on the mail challenges they have experienced at their home, business or community. Just two months ago, Heitkamp brought Brennan to North Dakota to visit a mail processing facility, hear firsthand from community and business leaders about how North Dakotans have been impacted by slow service and delivery delays, and to discuss lasting solutions to improve their mail delivery and service.
Brennan agreed to Heitkamp's request to visit North Dakota in April after Heitkamp shared her Fix My Mail survey results with the Postmaster General. To date, nearly 600 North Dakotans have filled out the Fix My Mail survey since its February launch. The results revealed major challenges for residents throughout the state – from medications and tax information lost or delayed in the mail, to batches of checks taking 10-20 days to travel 180 miles across the state.
North Dakotans in rural communities rely heavily on the Postal Service to support their businesses and to connect them with family, and are disproportionately impacted by poor service and delivery – a point echoed in a Postal Service Inspector General report on mail volume. Over the past few years, rural America has faced increased delivery times, reduced service standards, and a distressed Postal Service workforce.
Long an advocate for improved mail delivery in North Dakota, Heitkamp's efforts began shortly after taking office in 2013 when she heard from constituents about ongoing problems with mail service.
Heitkamp's work to tackle mail service issues includes:
Shedding light on longstanding mail issues across North Dakota. As part of her Fix My Mail initiative, Heitkamp requested a review of the state's mail delivery service challenges, which prompted a Postal Service Office of Inspector General formal report on North Dakota's severe mail service problems.
Addressing mail concerns in rural North Dakota communities. Based on feedback from her Fix My Mail initiative launched in 2014, Heitkamp introduced her Rural Postal Act in 2015 to address the mail delivery concerns and challenges she heard about from more than 200 North Dakotans. Key pieces and themes from Heitkamp's bill have been included in new, comprehensive postal reform legislation. Stories from the initiative also prompted Heitkamp to request a Postal Service Inspector General report, which confirmed the problems North Dakotans had shared with Heitkamp.
Gathering feedback from North Dakotans to hold the Postal Service accountable and achieve results. Since Heitkamp launched her Fix My Mail survey in February, she has received almost 600 responses from North Dakotans about specific mail delivery challenges – the vast majority of which contained personal stories about the issues they had experienced. Heitkamp relayed these challenges to Brennan and requested a prompt response to improve mail service.
Inspiring change at the U.S. Postal Service: Inspired by Heitkamp's Fix My Mail initiative and survey, the Postal Service has launched a new customer service program aimed at improving mail delivery and service. The 'Your Mail Matters' program is encouraging North Dakotans to share their mail service challenges with the Postal Service via email, YourMailMatters@usps.gov, and a service line, 605-333-2648, which is managed and operated by the Postal Service District Office in Sioux Falls, S.D.