Senator First Announced Postal Service's Intention to Build Facility in July 2016 – Just Three Months after Receiving a Commitment from Postmaster General to Quickly Improve Chronic Mail Issues in Watford City and Across the State
9/25/2017 WASHINGTON, D.C. – Following her continued efforts to improve mail delivery and service across North Dakota through her Fix My Mail initiative, U.S. Senator Heidi Heitkamp today announced that the Watford City Post Office is open for business.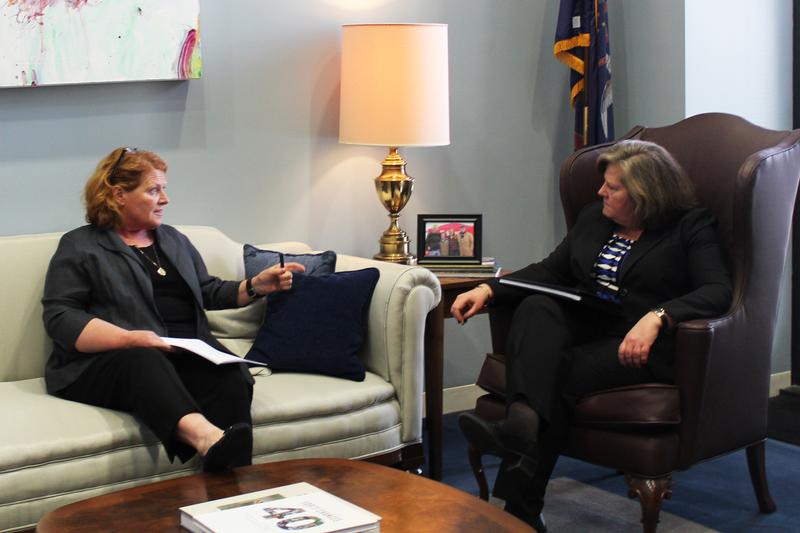 First announced in 2016, the new post office – which will include almost 3,000 P.O. Boxes –followed Heitkamp successfully pushing the U.S. Postal Service for several years to improve mail delivery and service for North Dakotans across the state. Just three months before plans for the new post office were announced, Heitkamp secured a commitment from U.S. Postmaster General Megan Brennan to quickly improve the chronic mail delivery concerns that hundreds of North Dakotans had shared with Heitkamp through her Fix My Mail survey. The survey, launched in 2016 as part of her Fix My Mail initiative, has generated nearly 650 responses from North Dakotans – including several from Watford City residents who wrote to Heitkamp about the challenges they faced in accessing and relying on their local post office.
"When residents in Watford City referenced the Bermuda Triangle a year ago, they weren't referring to a far-off island – they were talking about their local Post Office, where so many residents told me that their mail had either been lost or long-delayed," said Heitkamp. "Those are the stories I shared with Postmaster General Brennan last year, and she promised to work to quickly improve mail delivery and service across our state. Since then, we have seen improvements, including the Postal Service announcing that Watford City residents would see a new and improved post office. Today, that's becoming a reality. Regular mail delivery is a lifeline for those in rural communities, enabling them to get packages, prescriptions, and much more. The Postal Service must keep listening to North Dakota's concerns about delayed mail, and I'll keep working to make that possible, as every North Dakota family and business ought to be able to count on their local post office to stay connected."
Heitkamp has long been working on ways to improve the Postal Service to keep the agency accountable and reliable to rural communities. Just last week, Heitkamp called on U.S. Postmaster General Brennan take immediate action to remedy a significant lack of training requirements that led to inaccurate Postal Service reporting of an estimated two billion pieces of delayed mail over the course of one year, according to a recent USPS Inspector General audit report.
Since launching her Fix My Mail initiative in 2014 which has gathered hundreds of stories from North Dakotans about problems with mail delivery and service, Heitkamp has been working to hold the Postal Service accountable for improving mail delivery and service for rural communities. In May, Heitkamp followed up with Postmaster General Megan Brennan about what the Postal Service is doing to improve mail delivery throughout the country, especially in rural communities in North Dakota.
Long an advocate for improved mail delivery in North Dakota, Heitkamp's efforts began shortly after taking office in 2013 when she heard from North Dakotans about ongoing problems with mail service.
Heitkamp's work to improve mail delivery and service issues includes:
Resolving chronic mail issues in South Fargo and in Halliday. In January 2016, Heitkamp pressed Brennan on severe mail issues in South Fargo. After reviewing the performance, the Postal Service brought in a carrier with 30 years of experience. At Heitkamp's urging, the Postal Service announced in January it would reopen the Halliday post office. Since the day the Halliday post office's was closed and on a near-daily basis thereafter, Heitkamp and her office pressed Postmaster General Brennan and the Postal Service to take urgent and concrete steps to protect mail service to the community.
Bringing Postmaster General to North Dakota. After sharing her Fix My Mail survey results with Brennan, Heitkamp invited the Postmaster General to visit North Dakota so she could see for herself the mail challenges that exist at processing facilities and to hear directly from community members and businesses about the solutions needed to improve their mail delivery and service over the long term. Brennan accepted Heitkamp's invitation and in August 2016 visited a Bismarck mail processing facility and a Mandan post office with Heitkamp, and spoke directly with North Dakotans in Bismarck about the chronic challenges they face in accessing reliable mail service.
Shedding light on longstanding mail issues across North Dakota. As part of her Fix My Mail initiative, Heitkamp requested a review of the state's mail delivery service challenges, which prompted a Postal Service Office of Inspector General formal report on North Dakota's severe mail service problems.
Gathering feedback from North Dakotans to hold the Postal Service accountable and achieve results. Since Heitkamp launched her Fix My Mail survey in February 2016, she has received nearly 650 responses from North Dakotans about specific mail delivery challenges – the vast majority of which contained personal stories about the issues they had experienced. Heitkamp relayed these challenges to Brennan and requested a prompt response to improve mail service.
Inspiring change at the U.S. Postal Service. Prompted by Heitkamp's Fix My Mail initiative and survey, the Postal Service launched a new customer service program aimed at improving mail delivery and service. The 'Your Mail Matters' program is encouraging North Dakotans to share their mail service challenges with the Postal Service via email, YourMailMatters@usps.gov, and a service line, 605-333-2648, which is managed and operated by the Postal Service District Office in Sioux Falls, S.D.