McCaskill: Postal Service ' essential to rural America'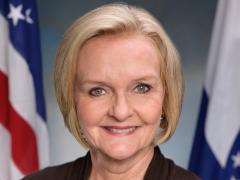 Washington D.C. – U.S. Senator Claire McCaskill used a Homeland Security and Governmental Affairs Committee meeting to discuss the urgent need for reforms to the U.S. Postal Service (USPS) to help protect delivery service for Missourians in rural communities.
"Speaking on behalf of hundreds of thousands of rural Missourians, where that post office is a lifeline to the economic vibrancy of that community—I think we are going to be held accountable if we don't do the really hard work of getting some of these really difficult questions hammered out on the Postal Service," said McCaskill, who was born in Rolla, Mo. "It is essential to rural America. If we allow this to go to the lowest common denominator, once again, rural America will get the short shrift."
McCaskill recently authored a letter along with a bipartisan group of 29 Senate colleagues, demanding a delay in the planned consolidation of up to 82 USPS mail processing facilities. The Senators urged the USPS to fulfil its obligations to adequately study the impact of the consolidations, and to inform the public of those impacts, which the USPS Inspector General found that it failed to do.
McCaskill continued: "I think we all know in our gut that if we allow [the Postal Service] to be totally privatized, that it will be our rural constituency that will pay a very heavy price. And I think we have the best postal service in the world, and I think if we allow it to atrophy and say, 'well, just let privatization take over, let it just be private,' I'm going to have a hard time explaining that to my rural constituency why we weren't there for them at this incredibly important time in the history of the postal service."
Last year, as the U.S. Senate considered legislation reforming the Postal Service, McCaskill won a victory for rural Missouri post offices after the Homeland Security and Governmental Affairs Committee approved her proposals to increase protections for rural post offices and postal delivery standards. McCaskill also worked with North Dakota Senator Heidi Heitkamp to protect mail processing facilities from closure and preserve six-day mail delivery. The committee voted 9-1 to strengthen the finances of the Postal Service and keep rural post offices open. McCaskill pledged to continue working to improve the bill as consideration continues.
In the previous Congress, McCaskill successfully helped win Senate passage of a sweeping, bipartisan reform bill to keep hundreds of rural post offices in Missouri open and operating—which Republicans in the U.S. House refused to bring up for debate.