Convention Wraps Up with Addresses from Top Postal Service Executives and NAPUS President-Elect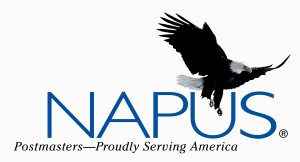 On Wednesday morning, USPS Chief Operating Officer and Executive Vice President Megan Brennan spoke to Postmasters at NAPUS' 109th National Convention. President Bob Rapoza introduced her, saying she has worked tirelessly with NAPUS on issues affecting Postmasters. Brennan told members the reason she and others from Postal Headquarters attend NAPUS conventions is because of the respect they have for Postmasters.
She said in today's world, change is the only constant—that's our reality. "When you consider the fundamental shift in the way Americans communicate and conduct business," she said, "that's a challenge." Brennan told Postmasters they have stepped up to that challenge.
"We will continue to evolve as an organization," she avowed. "Have a positive belief in the future of this organization. It's because of Postmasters like you and employees at all levels who are committed to the Postal Service. We have evolved over the years and will continue to, as well as positioning ourselves for the future."
Brennan highlighted the challenges facing the Postal Service, pointing out the agency can stem the tide of electronic diversion of mail, but can't stop it. And 80 percent of the Postal Service's revenue is capped, which creates limited pricing flexibility. In recent years, the agency has negotiated with the unions to achieve more flexibility in the work force. Reducing overall labor costs is key.
The Postal Service delivers to every household and every business every day. More than 700,000 addresses are added each year, but less mail is delivered, which decreases the value of the mailbag. "We need to position our network for future growth," she explained. The challenge is to figure out, from an operating standpoint, how to close the gap between revenue and expenses.
She assured Postmasters that Postal Headquarters is aware of the need for training, especially in light of POStPlan. The training needs to be comprehensive and allow a Postmaster to go and attend. Headquarters currently is working to ensure appropriate training is available.
Headquarters also is working to find landing spots for the approximately 4,600 remaining Postmasters impacted by POStPlan. "If we're flexible and work together, we'll ensure everyone has a landing spot," she assured Postmasters. She talked about plans for having mini career conferences in certain geographic areas to identify opportunities for affected Postmasters.
Brennan encouraged everyone who is affected to update their profiles in eCareer and let their managers know what they would like to do in the short term. "There will be landing spots," she pledged, "but I need you to be flexible and help us with that."
She applauded Postmasters for driving service, pointing out mailers want to see consistent service. She said Postmasters have done a tremendous job; service remains the agency's sole mission.
She urged everyone to demonstrate a positive belief in the future. "We will be forthright with the business decisions we make and provide the context for that change and ensure those changes are consistent with what the organization needs and protect our employees."
PM Retired President Jack Wilkins thanked members for the opportunity to serve these past two years. He said he has built on the work of past presidents and executive boards. "Each had challenges and faced changes and adapted to the needs of the time and led Postmasters Retired to a higher level. I, too, and my board, have faced many challenges these past two years—changes no one would have expected.
"I am extremely proud to have served as president during these changing times. We have grown stronger and set the stage for new leadership to respond to new challenges that surely will come."
USPS Chief Human Resources Officer and Executive Vice President Jeff Williamson was introduced to NAPUS members. He joined the Postal Service this past March. He told Postmasters he has the easy job. "For me, everything we do—the way we get there—is what we are all about," he explained.
Williamson said it is important for everyone to think as they go through their days and set strategies with an eye for the future. He acknowledged the recent pace of change is hard for everyone, so it's important to figure out how to deal with all the issues. "It's about people," he stressed. "We can have the right initiatives and tactical initiatives to move the institution forward, but if the culture isn't right, we won't be successful."
He reiterated the importance of Postmasters. "You don't recognize the Postal Service without Postmasters," he said. "They are the face of this organization; they are critical—they drive daily performance. Postmasters are the local chief marketing and sales officers. Communicating with our customers on a daily basis is a key conduit. Without that face-to-face, we've lost the core."
After being sworn in as NAPUS president-elect, Tony Leonardi, Postmaster of Rocky Hill, CT, addressed NAPUS members. He said becoming president had been a long journey, which started when he first joined the Postal Service. "My Postmaster was the best example you could ever have and he's the reason I wanted to be a Postmaster."
He pledged to PM Retired President-Elect Ann McDorman to work together to face NAPUS' challenges. "The choices will be tougher," he said, "and require everyone to realize it cannot be business as usual. I pledge to work closely with you and make the right decisions for active Postmasters and retirees."
He commended NAPUS members for passing the constitutional changes on Tuesday, saying they are needed to allow the organization to adjust and adapt. And he pointed out that, if needed, additional changes can be made to do what is best for everyone.
Leonardi acknowledged the challenges ahead, pledging to ensure Postmasters are part of the changing Postal Service. "I will work to ensure affected Postmasters will have Postmaster positions or landing spots," he promised. "I will work with Postal Headquarters to get the resources and training we need to do our jobs every day."
He also pledged to work to achieve a pay package that fairly compensates Postmasters and take a proactive role in addressing NAPUS' finances. "We are now down to tough decisions," he said, "but I will work with Secretary-Treasurer Mike Quinn and our Executive Board to make those decisions and make the right ones going forward. We will have to restructure in some ways and make decisions not all will agree with. I will listen to everyone and make sure we have the best plan going forward."
Leonardi urged NAPUS members to treat each other with dignity and respect. "I'm asking everyone: If you disagree with the direction this organization is going, get involved and change the course of history. Don't tell me one person can't make a difference. I got involved; you can do the same. At this critical time, we need fewer people complaining about what's not getting done and more people working to get it done."
via National Association of Postmasters of US (NAPUS)