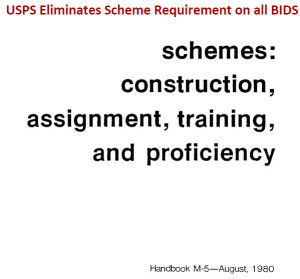 The USPS has doubled-down on abolishing scheme requirements on future clerk duty assignments. It made two minor concessions, however . The effective date was changed from March 7 to March 23, 2015 and existing duty assignments with a scheme requirement will keep them until the duty assignment is vacated. That avoids re-posting them.
I wonder how this will impact Overtime Desired Lists? Who is deemed qualified to work overtime? Is it anyone starting March 23rd?
Here is the notification letter from USPS:
This notice Is to provide follow up and corrected information concerning the enclosed Postal Service February 20 notice regarding the elimination of the Specialized Operations Networking Integrated Keyboard Systems (SONIKS), and the decision to eliminate scheme requirements from clerk craft bid duty assignments.
The February 20 notice identified March 7, 2015, as the date after which scheme qualifications would not be required on bid duty assignments. That date is hereby corrected to March 23, 2015, In accordance with the enclosed letter to Area Vice Presidents and District Managers from the Vice President Employee Resource Management (A).
While scheme knowledge is still beneficial in limited situations, and will continue to be utilized in existing duty assignments, during the transition to an environment without scheme requirements, the Postal Service has determined that future duty assignments requiring scheme qualification will not be necessary.
Therefore, any bid duty assignments that were posted with scheme requirements, prior to the March 23 notice, will continue under the normal scheme training and qualification process. This Includes residual duty assignments that were withheld pursuant to Article 12. Scheme training that was in process, but not completed, using SONIKS, will be completed manually and all training time will be on the clock.
Duty assignments posted after the March 23 date will not be required to have scheme qualification. Discussions continue with the APWU regarding any impact to the bargaining unit as a result of this change.