The following is updated information on USPS hiring retirees and Holiday Clerks for the upcoming "peak season" … The pay rate is slightly higher than previously reported.
Summary: Hundreds of "Annuitant Holiday Clerk Assistant" and "Holiday Clerk Assistant" jobs are listed at USPS.com/Careers.  The pay is $16.98 per hour.  The deadline to apply is September 25, 2017.  In Function 4 (Customer Service), Holiday Clerk Assistants may be hired for six weeks within the holiday exception period: either November 11 through December 22, 2017; or November 25 through January 5, 2018.  In Function 1 (Mail Processing), PSEs may be hired and exceed the 20% district cap during the 8-week period of November 11 to January 5, 2018.  No EAS annuitants will be hired as temporary supervisors this year due to the contractual violations that occurred last year.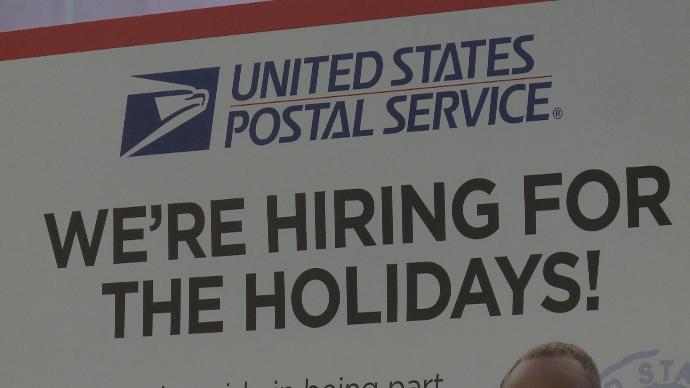 Updated: Peak Season Exception Period for Holiday Clerk Assistants 2017
The Postal Service informed APWU that with the PSE pay raise in November 2017, they will now have a rate of pay of $16.98 per hour.  HCAs will be paid at same rate of a level-6 PSE.  Holiday Clerk Assistants can be hired as early as 11/11/2017 with APWU. As part of the USPS/APWU agreement ALL HCAs will earn the higher rate.  This was important for  APWU to avoid inequities in pay resulting from HCAs being hired before the effective date of the pay increase. In Customer Service (Function 4), Holiday Clerk Assistants (HCAs) will be hired for three consecutive pay periods within the exception period — either November 11 through December 22, 2017; or November 25, 20017 through January 5, 2018.
 "The deadline for annuitants to apply for HCA positions will be extended to September 25th. The agreement does not extend the period and this change does not change, or amend any provisions of any prior MOUs or Q and As involving the Peak Season Exception Period."
 Last season, APWU had a problem with USPS hiring Temporary Supervisors during the Peak Season. The Temporary Supervisors were often found working in the lobby assisting customers –which is a violation of the contract. So to avoid a possible national dispute USPS stated they will not be hiring EAS annuitants during the peak season. The agreement only covers the APWU Clerk Craft and 204B MOU/Lead Clerks. Other USPS crafts are not affected by this agreement.
 In addition to the previous information, APWU will be provided at the national level with the names of annuitants who applied to work as a HCA, their former craft, and their retirement date. The Postal Service will also indicate whether they were accepted or rejected for employment and the reasons for the decision.
  The goal is to find work opportunities for APWU retired brothers and sisters.