One might think that after years of online shopping growing in popularity that major shipping carriers would finally be prepared for the Big Show, also known as the holiday season. And yet here we are again, heading into crunch time, and UPS and FedEx are having trouble keeping up with all those packages.
Though the shipping companies expected a lot of online orders as usual, they weren't expecting quite this many, reports The Wall Street Journal. UPS had been expecting to handle a record of more than 700 million packages, a 14% increase from last year, while FedEx predicted a 10% bump.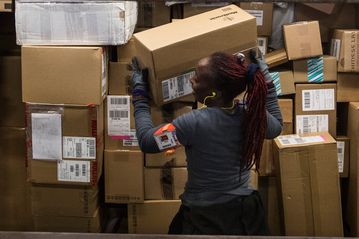 To cope with the onslaught, UPS has relocated hundreds of employees from its headquarters and other corporate offices to pitch in at hubs that are overwhelmed with record demand, a person familiar with the matter told the WSJ.
Before the holiday season even started, both UPS and FedEx beefed up their seasonal staff and tried to prepare by extending some delivery windows, temporarily dropping delivery guarantees and refunds for some weeks, and stopped promising to deliver express packages by a certain time.
That didn't help much, as analysts say on-time delivery rates for both carriers were down a bit in the weeks after Thanksgiving, compared to their average rates for the rest of the year: on-time delivery rates for UPS Ground fell to 96.3% last week, while FedEx Ground sank to 96.9%.
source: UPS, FedEx Already Struggling Under Avalanche Of Holiday Deliveries