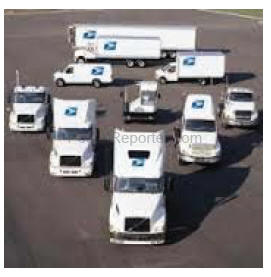 The U.S. Postal Service (USPS) has a requirement to contracts for the rental and leasing of various types and capacities of motor vehicles primarily for the purpose of mail transportation. Motor Vehicle Services (MVS) vehicle utilization averages 20,000 miles per year on local routes and 30,000 to 60,000 miles per year on highway routes. The vehicles are primarily used for the transport of high volumes of mail delivered in major metropolitan areas. (Vehicles used on carrier delivery routes average less than 10,000 miles per year on most routes.)
The USPS MVS vehicle fleet consists of 7/11 ton cargo vans, Single Axle (SA) tractors, Tandem Axle (TA) tractors, and Spotter vehicles. As illustration of our needs, six hundred metro vans were leased within FY 2015 and currently there are one hundred thirty six (136) straight trucks and two hundred fifty one tractors (251) which are being leased to augment the USPS owned fleet. Delivery Services has a need for a small amount of heavy fleet vehicles (5-10)
On May 27,2016 the U.S. Postal Service awarded and Indefinite Delivery/Indefinite Quantity (IDIQ) contract to Ryder Truck Rentals Inc, located at 6000 Windward Drive, Alpharetta, GA 30005 for the Mail Hauling Vehicle Rentals and Leases.
Based on the estimated requirements and the evaluation factors Ryder Truck Rental Inc's service period will start on June 1, 2016.
Ryder Truck Rental Inc's had the lowest price, highest ranking performance and capability ratings. The evaluation factors provided that price was more important in the best value decision
To service the current needs, Transportation Networks estimates the following number of vehicles will be needed long term:
26′ Cargo Vans – 136 Ea.(6,240,000 miles per year);
SA Tractors – 81 Ea. (3,990,000 miles per year) ;
TA Tractors 170 Ea. (9,150,000 miles per year).
The shorter term rentals are primarily used to replace vehicles that are out of service for repairs. Our Cargo Van fleet of 7 & 11 ton vehicles consists of approximately 1577 each 2004 International vehicles. Our Tractor fleet of Single and Duel Axle units consists of approximately 218 each 2006 Mack Truck vehicles.
The planned period of performance will be a total of seven (7) years with a three year base period and two (2) two-year option terms. The minimum amount of $3M with a maximum of $140M (for all years).