In September of last year, Billy Mitchell from FedScoop.com reported that the Office of the National Coordinator for Health IT within the Health and Human Services Department planned to collaborate with the U.S. Postal Service to build health record interoperability tools.
Karen DeSalvo, national coordinator for Health Information Technology, told an ACT-IAC health care panel, "They have hundreds of thousands of employees for whom they are making a personal health record and a portal so they can access their health information."
Now the plan is official….
From Don Cheney:
"The Postal Service is seeking to provide a new wellness benefit to its employees and their dependents by offering USPS Health Connect, a secure application that allows end users to collect, store, and manage their personal health and wellness information in an account completely under the end user's control. Postal Service employees will be able to voluntarily elect to use this application."
***The USPS is using its employees as beta testers for this new digital service. See USPS Digital Services. Many FEHB plans offer this service already.
About 15 years ago USPS offered electronic bill payment, USPS eBillPay. They offered it free to postal employees for six months. Postal Employees were the beta testers for that, too. It fold three years later.   https://www.federalregister.gov/articles/2015/08/14/2015-20031/privacy-act-of-1974-system-of-records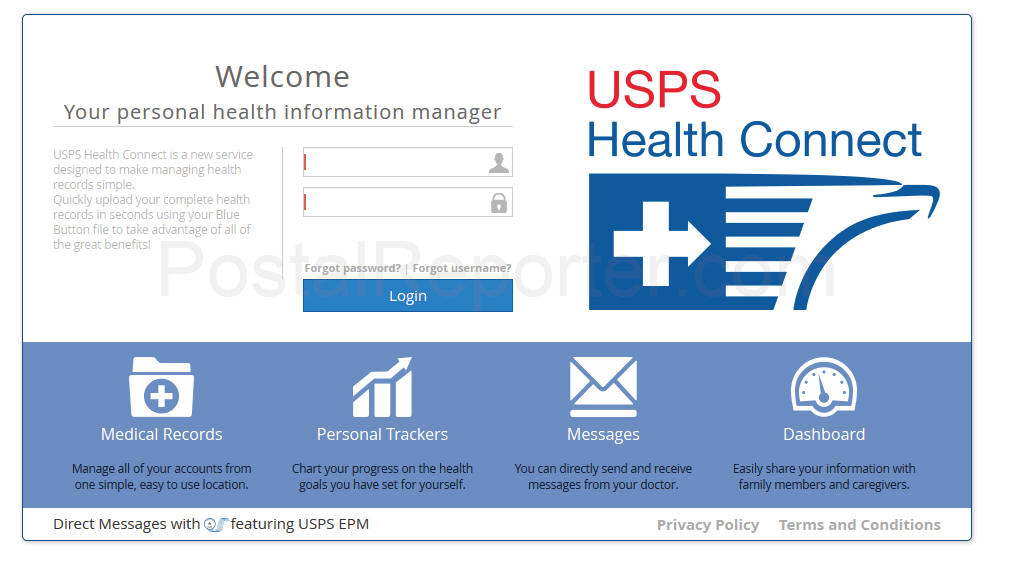 Don Cheney
Auburn WA
Office of the National Coordinator for Health IT and the Federal Health Architecture Demonstrations within the HIMSS Interoperability Showcase – Department of Human Health Services

Health Delivered via USPS Health Connect
United States Postal Service
Learn about the US Postal Service's employee pilot integrating industry best practices in secured information exchange, identity management and the USPS's own Electronic Postmark webservice. The USPS will demonstrate patient directed exchange of health information through a centralized patient management health repository. Health Connect features will allow users to integrate personal health devices, personally entered health information and health provider content. The USPS Identity Verification Service provides identity assurance of the parties involved, Direct establishes the system to system trust, and the USPS Electronic Postmark provides a visible trustmark that indicates message and content.
Safeguards
Contractor site utilizes a Cloud Infrastructure under Agency Authorization to Operate (ATO) using a FedRAMP accredited Third Party Assessment Organization (3PAO) for selected Cloud Service Provider services. Physical access is strictly controlled both at the perimeter and at building ingress points by professional security staff utilizing video surveillance, intrusion detection systems, and other electronic means. Authorized staff must pass two-factor authentication a minimum of two times to access data center floors. All physical access to data centers by contractor employees is logged and audited routinely.

Encryption and Data Security uses Federal Information Processing Standards (FIPS) compliant encryption, secure certificates for Client and Server communication authenticity, session protection certificates for end to end protection, multiple layers of protection for data confidentiality and integrity and hashes and password storage encryption and block level encryption for the data volumes. Customer support personnel have minimum access to user profile records.