Some Postal Employees in USPS Western Area retiring January 31, 2015
As PostalReporter (correctly) reported in November, USPS sent out "Special Voluntary Early Retirement (VER) opportunity letters to eligible employees" at targeted post offices.  The VER letters were also sent to " eligible employees within 50 miles" of the targeted locations. This VER (with no incentive) is limited to eligible APWU Maintenance & Clerk Craft employees. The Irrevocability date for this VER  is January 9, 2015 and the effective retirement date is  January 31, 2015. It should be noted that the VER was offered to postal employees at certain POST OFFICES in the Western Area and not USPS PLANTS scheduled for closure/consolidation beginning in January 2015.
OPM granted USPS's request for a "special site specific Voluntary Early Retirement (VER)." According to USPS the "VER locations were selected based on sites that are currently overstaffed." 
USPS changed dates for nearly all plants scheduled for closure in 2015
In October, the USPS Office of Inspector General (OIG) issued a report  "Lack of Service Standard Change Information in Area Mail Processing Feasibility Studies." The report (Oct. 8, 2014) stated :
The Postal Service has not analyzed the impact of planned service standard changes or informed stakeholders of the changes related to Phase 2 consolidations. Specifically, management did not complete the service standard impacts worksheet in 91 of the 95 AMP feasibility studies. The other four feasibility studies did not include updated service standard changes in the service standard impacts worksheet (see Appendix A). The worksheet should detail the upgrades and downgrades between 3-digit ZIP Codes4 by class of mail5 and volume.
Fast Forward (Oct. 27, 2014) :
Approximately two months ago a USPS representative, after being questioned about the USPS OIG's report, the closure of Tucson, AZ 's Cherrybell processing center and others across the country , was quoted as saying:
Sarah Ninivaggi, a public relations representative with the Postal Service, said the closures will go ahead, but impact studies – including one on Cherrybell – will be conducted starting in January. She said her organization disagrees with the inspector general's finding that it didn't comply with requirements to inform the public of its plans.
The Cherrybell plant WAS scheduled for closure April 18, 2015 but USPS quietly changed the move date to July 11, 2015.
There were several articles on the  closure of Redding, CA  CSMPC to West Sacramento CA  scheduled for January 10, 2015. But USPS has quietly changed the move date to April 18, 2015.
As it stands now most of the plants are scheduled for closure/consolidation starting in April and not January 2015. In fact there are no plants scheduled for closure in January. The first graphic below show plants on the list that were already in the process of closure.

Also, USPS started the closure/consolidation process on more than half of  82 plants months ago. (see graphic below for partial list of the plants)

Finally, the following are graphics of the 24-Hour operations before and after starting in January 2015 (click on image for larger view)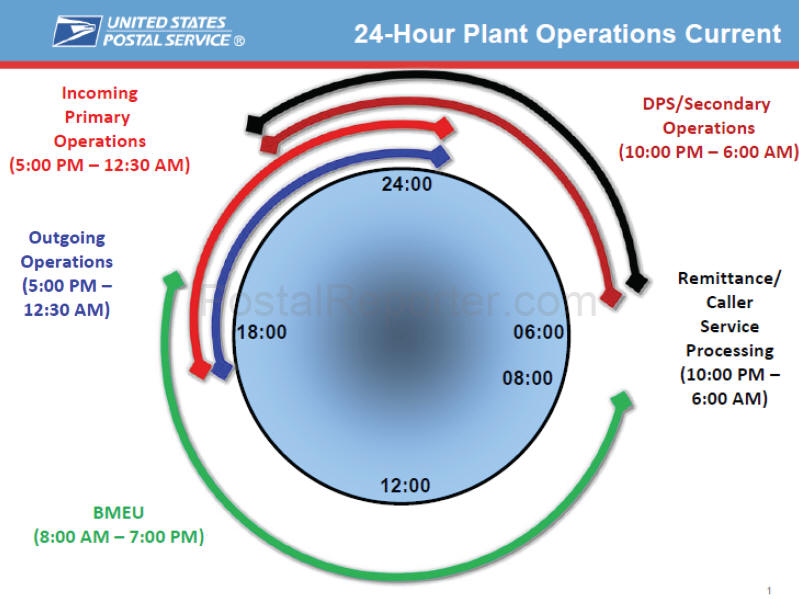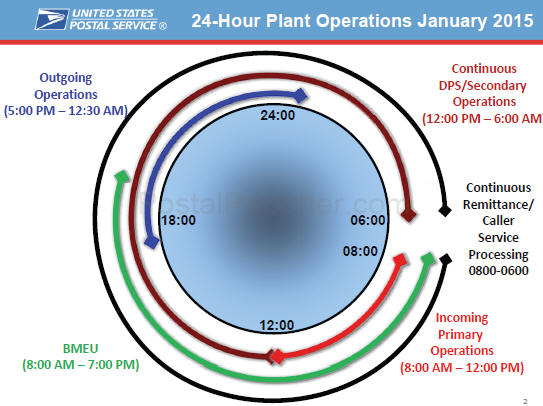 24 hour