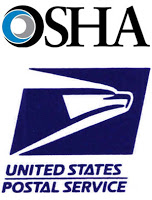 June 28, 2015 – USPS was seeking to overturn OSHA citation, penalties in heat-related death of Missouri letter carrier and USPS settled case involving postal worker who called 911 and labeled a terrorist.
On September 10, 2014, U.S. Occupational Safety and Health Review Commission (OSHRC) Administrative Law Judge Peggy Ball upheld the willful citation issued to the U.S. Postal Service Truman Station in Independence, Mo., by OSHA following the July 24 2012 death of a letter carrier with 28-years of service. The letter carrier,  John Watzlawick, developed heat-related illness symptoms, collapsed while working his route and was taken to the hospital where he died as a result of his exposure to excessive heat. OSHA found USPS at fault for "willful violation of the general duty clause by failing to adequately protect its employees from the hazards associated with working in extreme heat" and assessed a penalty of $70,000.
On December 22, 2014, USPS filed a "Petition for Review" of a final order of OSHRC. USPS is requesting that the US Court of Appeals  review and set aside, in part, directing implementation of OSHRC's final order dated October 24, 2014.  Although USPS stipulated that it recognizes the hazard heat poses to letter carriers–USPS disputes  OSHA's "willful violation" assessment.
The National Association of Letter Carriers intervened in the case on January 15, 2015.
Last month the Postal Service and "unions representing its letter carrier employees" at the Independence, Missouri Post Office reached an agreement on a heat abatement plan.
The Postal Service  posted a notice of its compliance of the Commission's order by the abatement deadline, May 15, 2015, and submitted its certification of abatement to the Occupational Safety and Health Administration on May 22, 2015.
Although USPS filed for withdrawal of the "petition for review" they did not "waive any arguments that the Postal Service may have regarding the sufficiency of the abatement measures implemented by the Postal Service to fully comply with the Commission's decision and order and to adequately abate the hazard."
USPS seeks to overturn OSHA citation, penalties in heat-related death of Missouri letter carrier
USPS settles case involving postal worker who called 911 and labeled a terrorist
In 2014 the U.S. Department of Labor has filed a lawsuit against the U.S. Postal Service on behalf of a maintenance employee at the St. Louis Network Distribution Center in Hazelwood, Mo., who reported unsafe working conditions and suffered reprisals, including false charges of making a "terrorist" threat. "The Postal Service not only disciplined this 35 year employee for reporting unsafe working conditions, but also pursued a baseless criminal complaint against him resulting in his detention for 18 hours by law enforcement and the disparagement of his reputation,
 On Dec. 4, 2009, the maintenance worker attempted to contact a fire marshal about the alleged carbon monoxide leak and after failing to reach anyone called 911. When emergency responders arrived, Postal Service supervisors allegedly characterized the complainant as "disgruntled" and alleged that he was "attempting to sabotage the facility." The next day, the maintenance worker, who had no history of disciplinary action, was suspended.
Earlier this year (2015) USPS and DOL settled the matter through Alternative Dispute Resolution (ADR). The case is pending until some elements of the settlement agreement that require action can be taken by the parties .