USPS drops plan to outsource sorting of "Non-Machineable Outside Parcels (NMO) " To UPS
National Level Grievance Settlement Resolves NMO Outsourcing Issue
In a memorandum to all Local Presidents, NPMHU President Paul Hogrogian and CAD Manager T.J. Branch disseminated information relative to the NPMHU's National-level grievance over the possible subcontracting of sorting and processing Non-Machinable Outside (NMO) parcels.
As set forth in the attached agreement, the NMP pilot test has ended; the NMO parcel operation is back to its normal operating procedures; and the Postal Service has ceased further evaluation of outsourcing for NMO parcels.
Read the complete memorandum and grievance resolution (pdf)
USPS Stand-UP Talk to Postal Employees: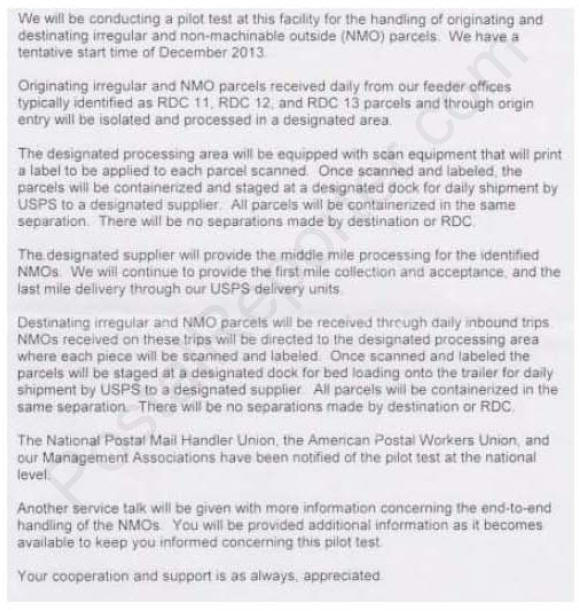 The reason given for subcontracting this work to UPS is because they have the machines to sort the Outside mail but USPS has a Universal Sorter for larger parcels at the ISC and there is talk of getting one at Busse. Headquarters wants to give to UPS to bypass manual distribution which is labor-intensive and expensive. It looks like more USPS subcontracting of work like the opening of USPS Retail Services at 81 Staples stores to be staffed by non-postal employees.