On Friday, November 13, 2015, the (Temporary) Board of Governors approved USPS's Annual Report (10k) Pursuant to Section 13 or 15 (d) of the Securities Exchange Act of 1934 for the fiscal year ending September 30, 2015. Although USPS financials were widely reported in mainstream media and postal related news websites –nothing was reported about USPS executive's pay or the new policy for PMG and DPMG.
The report lists Top five (5) of USPS's most highly compensated executive officers. The Deputy Postmaster General (DPMG) is not listed in the Top 5 . USPS Revised Officer List To Replace PMG In Case Of National Emergency to perform the duties of the postmaster general to Chief operating officer and executive vice president.
At any rate, here is the list for Top 5 out of 8 USPS executive officers (Randy S. Miskanic. Acting Chief Information Officer and Executive Vice President, Jeffrey Williamson, Chief Human Resources Officer and Executive VP and Ronald A. Stroman, Deputy PMG are not listed) :
Fiscal Year 2015 Executive Officer Compensation
Summary Compensation Table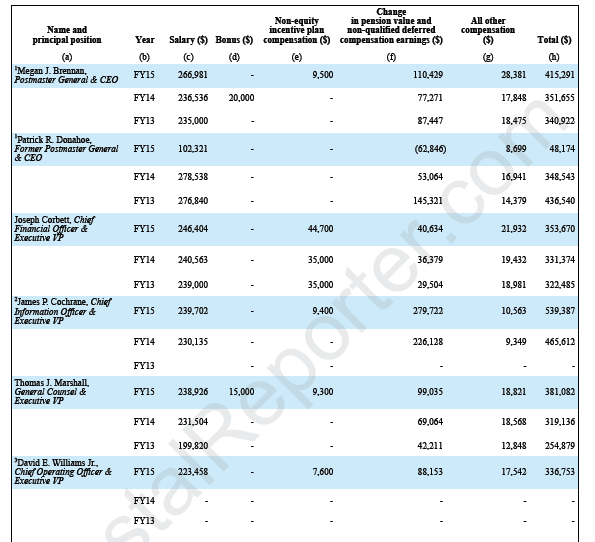 According to the report: At the start of calendar year 2015, the compensation system operated pursuant to its terms eligible officers received an increase in their basic compensation and a performance lump sum payment. The increases in basic compensation in fiscal year 2015 were dependent upon performance, and averaged 3%. The amount of the performance lump sum payments issued in fiscal year 2015 was again based upon performance, and averaged 4%. Further, some non-executive officers received additional financial awards in fiscal year 2015 for outstanding performance on particular strategic projects in fiscal year 2014.
When the Board of Governors appointed Patrick R. Donahoe as the 73th Postmaster General, they set his salary at the legislative salary cap. Donahoe asked the BOG not to award him any additional compensation, beyond salary and the general types of benefits provided to postal executives. The current PMG, Megan J. Brennan, likewise did not ask for any additional compensation beyond salary and the general types of benefits provided to postal executives.
The BOG's reasoning, in part, for granting the salary increase and performance lump sum payments:
To attempt to achieve some level of comparability within the confines of the law, the Board designed a compensation system intended to balance an executive's annual salary with the ability to earn additional compensation by meeting performance goals and objectives, and because of the compensation caps, a portion of this compensation might need to be deferred. The compensation system has not functioned as originally intended in that significant performance-based incentives have not generally been available to our officers since 2008. For the past eight years, our officer compensation system has not worked as designed because we have faced significant financial challenges caused in part by the problems with our business model. We have taken significant steps, described elsewhere in this report, to reduce costs and generate revenue. However, we have sought and continue to need comprehensive legislative change to have much greater flexibility to reduce costs, generate new revenue and return to financial stability.
The BOG also noted that USPS executives:
Even as the economy continues to be challenged, comparably sized companies typically provide their top executives with annual salaries well in excess of $1 million and total compensation and benefits valued at several million dollars. These compensation packages typically consist of annual and long-term performance incentives, including a combination of cash payments and stock options and a number of benefits and perquisites. Although our governing law provides that executives and others should be compensated at a level comparable to the private sector, the law does not afford the Governors the tools to achieve a standard of compensation comparable to the private sector. Compensation for our executive officers remains significantly below that of similarly-ranked senior executives in the private sector.
If we follow the BOG's logic in granting postal execs salary increases and bonuses, the same rule of thumb can be applied to bargaining unit employees. Full-time employees at UPS and Fedex receive higher wages and much better benefit packages (dental in particular) than postal employees. Also, when employees from both companies (and other private sector companies) retire they receive full entitlements from Social Security. Postal Employees under CSRS on the other hand are entitled [if eligible] to only a portion of their Social Security benefits.
At the present time, contract negotiations with the APWU and NRLCA reached impasse and awaiting on either mediation and/or interest arbitration. It has been reported USPS is seeking to reduce pay scales for APWU represented employees.
USPS execs were not able to achieve goals in operations or any other area without the hard work from dedicated postal employees. The news of USPS ending FY2015 with a $5.1 billion loss AND USPS execs getting pay raises, bonuses while seeking to reduce wages of its workers is not a good look. Currently, APWU and NRLCA represented postal employees will not receive any wage increases or COLA adjustments until the respective contracts are settled.
Additionally, in November 2015, the BOG added a policy affecting the PMG and DPMG. The new policy provides that the Postmaster General and Deputy Postmaster General are entitled to a separation payment in an amount of one year's salary if either is asked to separate from the Postal Service for any reason other than cause and they are otherwise not eligible for immediate retirement (not including early retirement, discontinued service retirement, or retirement at the minimum retirement age with less than 30 years of service). Severance may be paid in a single lump sum payment or in bi-weekly payments following the date of separation from the Postal Service.
As described in the Compensation Discussion and Analysis, in 2009 the Postal Service entered into an employment agreement with Joseph Corbett, the Chief Financial Officer, for recruitment and retention purposes. Mr. Corbett's agreement provides for deferred compensation payable in installments commencing on the date of his separation from the Postal Service or October 22, 2019, whichever is later. Mr. Corbett is entitled to a severance payment of $230,000, in the event the Postal Service terminates his employment for any reason other than for cause or breach of contract.
Below are additional charts on USPS Execs Compensation: