The U.S. Postal Service started the Fiscal Year 2015 fourth quarter (July 1, 2015 – July 31, 2015) with an operating revenue increase of $66 million, or 1.2 percent, over the same period last year. The increase in operating revenue was driven by a 18.0 percent growth in shipping and package volume. The net income loss for the month of July was $917 million compared to a net loss of $352 million for the same period last year.  The $917 million  net income loss is due to  a retiree health benefit prefunding expense (2006 PAEA).
July 2015 Results of Operations Compared to Same Period Last Year
Total mail volume of 12,314,103 billion pieces declined by 176,294 million pieces from the same period last year.

Shipping and Package volume increased 18.0 percent, revenue 14.7 percent.
First-Class Mail declined by 3.5 percent and Standard Mail volume increased by 0.1 percent , respectively.

Operating revenue of $5.6 billion increased by $66 million or 1.2 percent.
Operating expenses increased by $32 million or 2.9 percent.
Personnel Compensation and Benefits increased 3.7 percent (without prefunding) from same time last year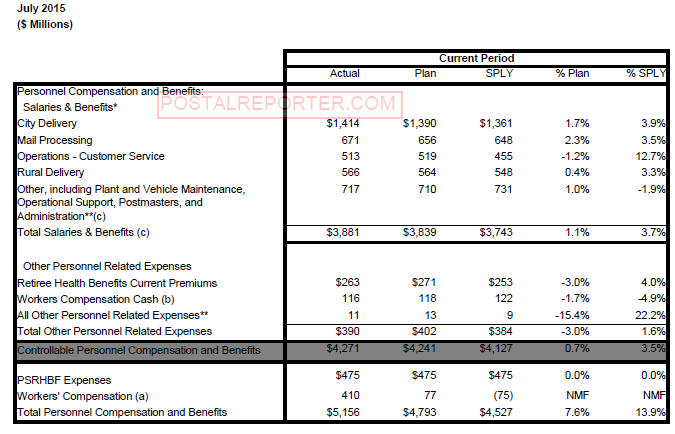 Workhours increased – Plant closures did not decrease overall workhours for month of July or YTD. Mail Prcessing workhours increased  3.0 percent for month of July and 1.4 percent for same period last year


Click here to view the complete report (PDF)