Law360, New York (July 19, 2017, 9:22 PM EDT) — The U.S. Postal Service is headed to trial on copyright claims for accidentally depicting a Las Vegas replica of the Statue of Liberty on billions of stamps, after the U.S. Court of Federal Claims refused to end the case Tuesday.
The ruling came in a suit filed by Robert S. Davidson, the sculptor behind the Lady Liberty replica featured prominently at the Las Vegas casino New York-New York. He sued after the Postal Service used an image of the replica's face on 4 billion "forever" stamps,…
Full article: USPS Must Face Trial For Lady Liberty Stamp Mix-Up – Law360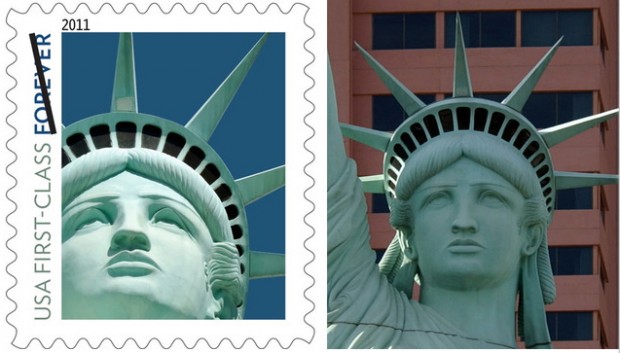 The Postal Service chose the image much the way most design shops do – searching the Getty Images photo database. Turns out the sculptor – Robert S Davidson – had a copyright on the images and never received royalties from the USPS.
USPS admitted in court records that Davidson registered his works as "Las Vegas Lady Liberty" and "Las Vegas Lady Liberty Statue" in the name of PlasterTech with the United States Copyright Office.
At the time of purchase, the alleged infringing image was titled "Lady Liberty," rather it was titled solely "Statue of Liberty.
USPS issued approximately 3.5 billion stamps containing the alleged infringing image on December 1, 2010
After USPS received notice in 2011 that the "alleged infringing image used in the alleged infringing stamp was from a replica of the Statue of Liberty in Las Vegas" it issued 1.125 billion additional stamps .
USPS argued that it cannot be held liable for copyright infringement because the stamp accused of infringement is a pictorial representation of a constructed architectural work that is "ordinarily visible from a public place."