Several months ago Postal Reporter contributor Don Cheney reported:
The Future of USPS mail delivery: "The First-Class Mail and Standard Mail streams are being combined at the remaining plants. David Williams said their goal is to Delivery Point Sequence as much letter and flat mail to the carriers as possible. Their mission is to reduce carrier hours and jobs as much as possible. One good change is that many mail processing clerks will have daytime hours."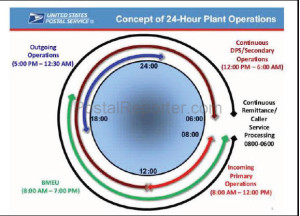 Well, USPS is moving ahead with plans to implement changes starting  January 10,2015. Here is one example:
USPS National Plan to Eliminate Tour 1 starting in January 2015:
This is a National Plan
The "Realignment" deals with three parts, changing service standards to end overnight and add a day for most first class mail, closing 82 more plants, and changing times and tours for mail processing. The only way this can be stopped is if Congress stops the changes being made to service standards. 50 U.S. Senators and 160 U.S. Representatives in Congress have signed a letter against the changes but no postal legislation has been passed due to Congressional gridlock. The results of the midterm election will impact us one way or the other and we hope things don't get worse for us in 2015. The four postal unions are working together to hold a National Day of Action on November 14th from 12 noon to 4 pm at the Carol Stream P&DC. I want to thank Palatine NPMHU Branch President Morris for mentioning the Day of Action in her floor letter. The APWU and NPMHU have the most to lose if 82 more plants close and take 15,000 of our jobs away. Carriers support the Day of Action and we support them in the fight to preserve six day delivery.
Palatine Realignment Meeting on 11-3-14
We met on 11-3-14 with In-Plant Support Manager Esther Smith and In-Plant Support Specialist Gail Towner. Present for the Union were myself, VP Elerby. and 600 CCD Lloyd. The staffing plans they gave us for Automation show tour 2 going from 16 bids at 0500 to 100 bids starting at 0800, and tour 3 going from 41 bids at 1300 to 100 bids starting at 1600. Tour 1 Automation will be staffed by PSEs and go from 118 Bids to 0. Their staffing plan was based on a data fed into a program called RPG scheduler. The matrix we were given has no Sunday Monday, no Tuesday/Wednesday, and no Thursday/Friday bids, which means employees with those NS days will lose their bids. It seem that every time management makes major changes they compound the disruption by changing the NS days. The 2010 changes for the AMP eliminated SIS bids and added S/M bids and now in 2014 they are eliminating S/M and adding more S/S bids.
USPS Moving Ahead with Tour Changes…
The Plant Managers of Carol Stream and Palatine have informed us they were given the go-ahead on 10-23-14 to proceed with plans to realign tours based on the elimination of most overnight service for First Class Mail. USPS put these changes on hold for the last year but are now moving forward with plans to change mail processing from a tour l/tour 3 window to a tour 2/tour 3 window. The plan is to start letter automation at 0800 and start tour 3 at 1600. Tour 1 Automation will run only a few machines which will probably be staffed by PSE Clerks. PSEs will probably have two days off after the tour changes are made. Palatine will post more Manual bids for IPP and Low Costs #1 and #3. Carol Stream Plant Mgr. Mike Kotula said he will be ready to discuss the specifics of the changes later in November and Palatine Plant Manager Quintin Mayberry said he will meet with us in late November to discuss Palatine changes.
Jackie Engelhart – President – APWU Northwest Illinois Area Local
http://www.nwial.com/FloorSpread-HTML/Floor%20Spread%2011-04-2014%20-%20Update%20by%20Jackie%20Engelhart.htm
http://www.nwial.com/FloorSpread-HTML/Floor%20Spread%2010-28-2014%20-%20Update%20by%20Jackie%20Engelhart.htm